HOLLYWOOD, Calif. — Eager fans lined up at 12 noon on Day Two of the inaugural "creator-first" fan show X3 Expo on Saturday, Jan. 8, ready to connect with their favorite stars and personalities within the historic Hollywood Palladium space, where dozens of content creators in their sexiest finery manned talent booths, top studios displayed eye-catching banners and teased their latest releases while sextech companies offered a tantalizing glimpse at the future of erotic entertainment.
The Brazzers booth buzzed for a second day with a long line of eager fans that snaked around the convention floor, ready to mix-and-mingle with an array of contract stars, all of them clad in underwear adorned with Brazzers signature logo, including Angela White, who took the time to interact with each-and-every fan, snap photos and sign magazines.
"I am so happy to be here. I'm so amazed by the turnout and I'm so grateful to all the fans that have come to the event and lined up to see me," she enthused, after apologizing to those in her line for taking a quick minute to step away and speak to XBIZ. "Thank you so much to everyone who turned up at the event. I'm having so much fun! I'm very grateful for all the fans. They really turned out for me."
White was later spotted, at the end of the night, signing more autographs and interacting with the remaining fans from her line, even as the expo crew was taking down the booths to begin prep for the 2022 XBIZ Awards the following night.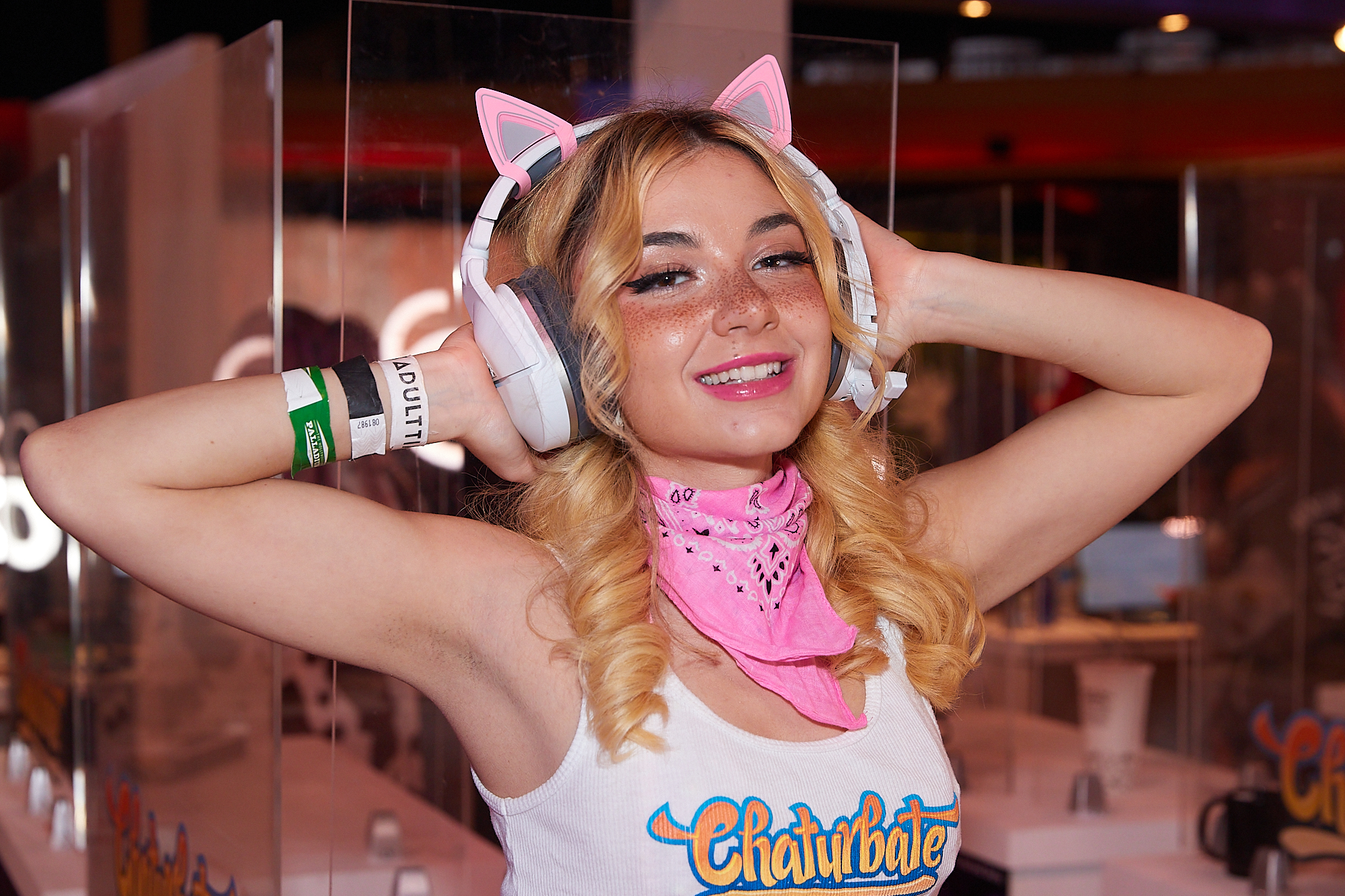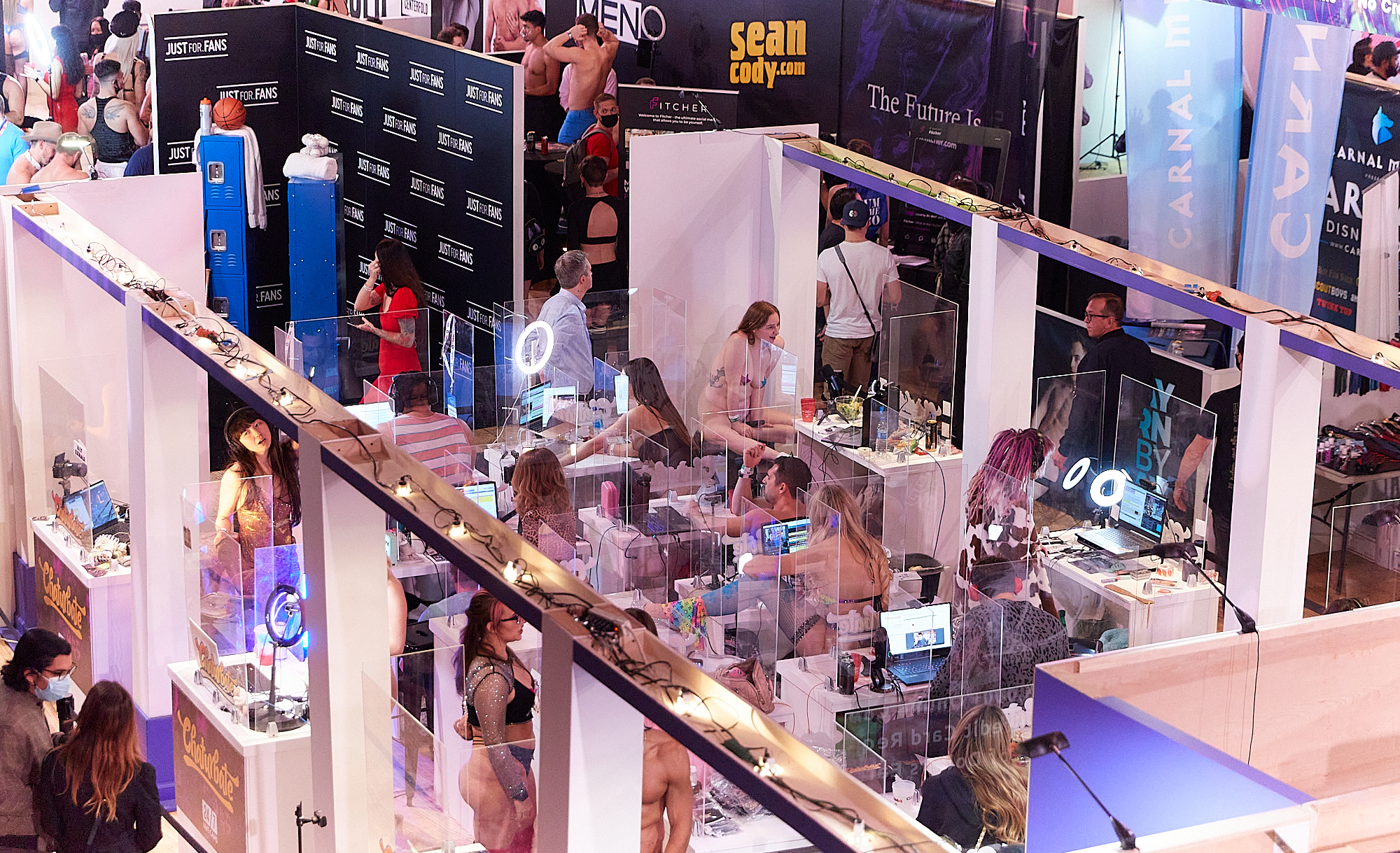 Another notable moment occurred when a group of Brazzers models, led by superstar Phoenix Marie (in blingy gold Brazzers earrings), stepped onto the expo stage and surprised performer Ebony Mystique by crowning her the studio's newest contract star.
Mystique, clearly moved, dropped to the floor and laid herself out, joking, "I'm dead!"
"I'm fucking astounded! I had no clue," she told XBIZ. "They have been keeping this from me for literally 30 days; they've been keeping this whole Brazzers exclusive contract from me. It's the first live announcement! I literally died today and then came back to life. 'Brazzers contract Ebony Goddess Mystique' — yes, sirrrr! X3 2022! I can't tell you too much right now about the plans for 2022, but we're doing very, very, very big things. 'ZZ X3 2022.' If you're not here — you should have been! You missed out!"
Mystique later noted that all of her Brazzers scenes, to date, have been her favorite, prompting Phoenix Marie to retort, "Bitch, you were supposed to say, 'The one I did with you!'"
Newcomer Lily Lou admitted to being happily dazzled by the Brazzers commotion.
"This is my first convention," she said. "It's pretty great. I really like talking to all the people and getting to know them. I'm taking a photo next to them and their heart is beating really fast! I got a lot of people that are saying, 'I really like your work, but I like you even better that I know your personality.'"
Brazzers production manager Lea Lexis was happy to welcome the crowd.
"Especially after 2020 and 2021, it was really interesting to see fans still show up," she said. "It's exciting to see how much they love our contract stars, how curious and engaged they are with all our projects, everybody's been bringing up projects that they've seen during the quarantine. Our models have been missing this, so it's just a good energy to have to start the year off. We are very grateful for XBIZ treating us right."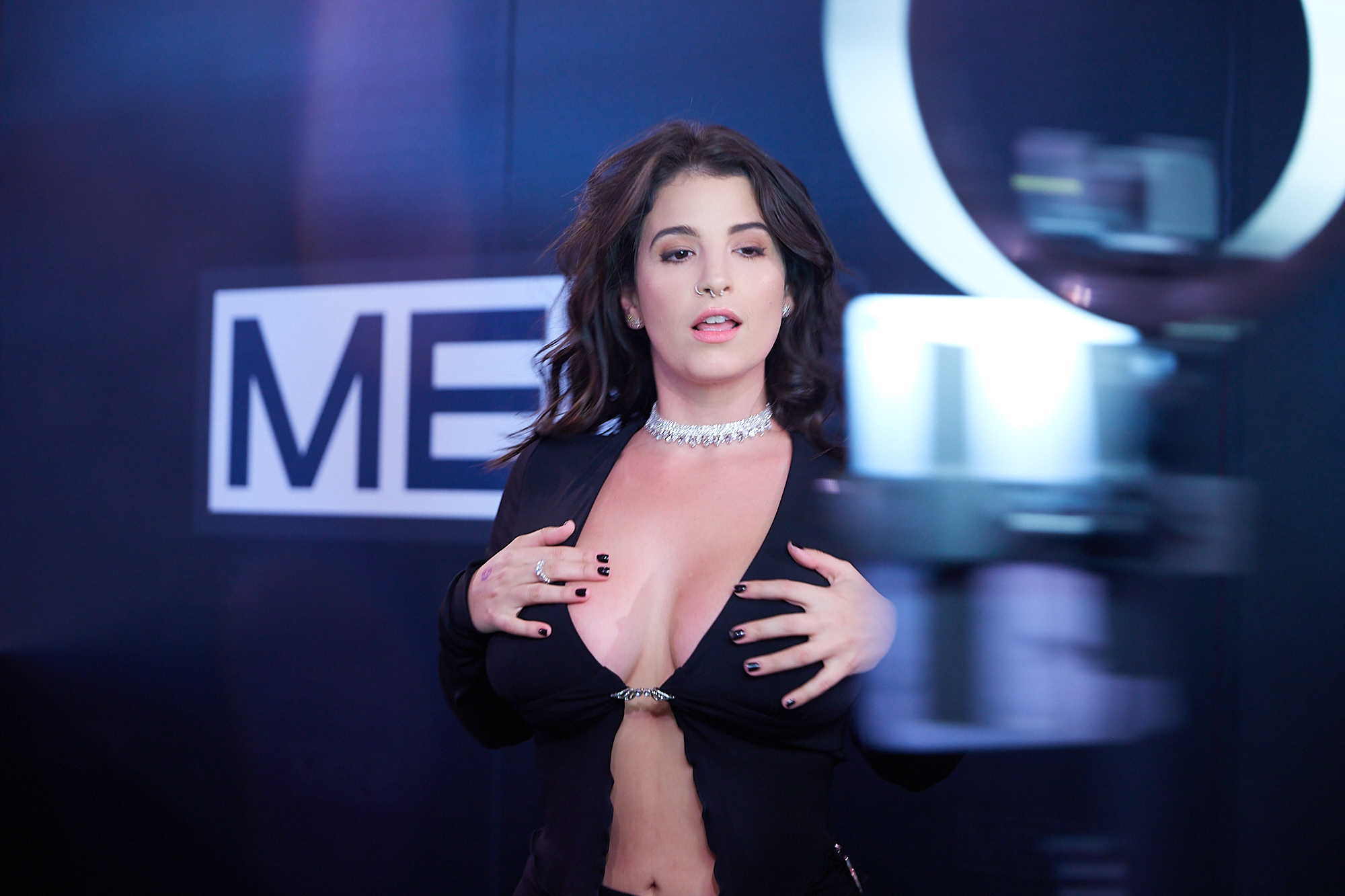 On the second floor of the Palladium, a screening room near the top of the stairs hosted a special presentation of "Blue Moon Rising" from Missa X with director Ricky Greenwood and star Aiden Ashley in attendance to field questions from the audience, which visibly recoiled with glee at the film's elaborate horror special effects makeup.
Casey Kisses herself was also in attendance for a special screening of "Casey: A True Story," her acclaimed biopic from Adult Time. Later that night, acclaimed award-winning performer and rising Gamma director Seth Gamble discussed his lengthy career in the adult industry with XBIZ managing editor of digital media Alejandro Freixes, highlighting a variety of his acting-rich roles, life lessons and upcoming projects.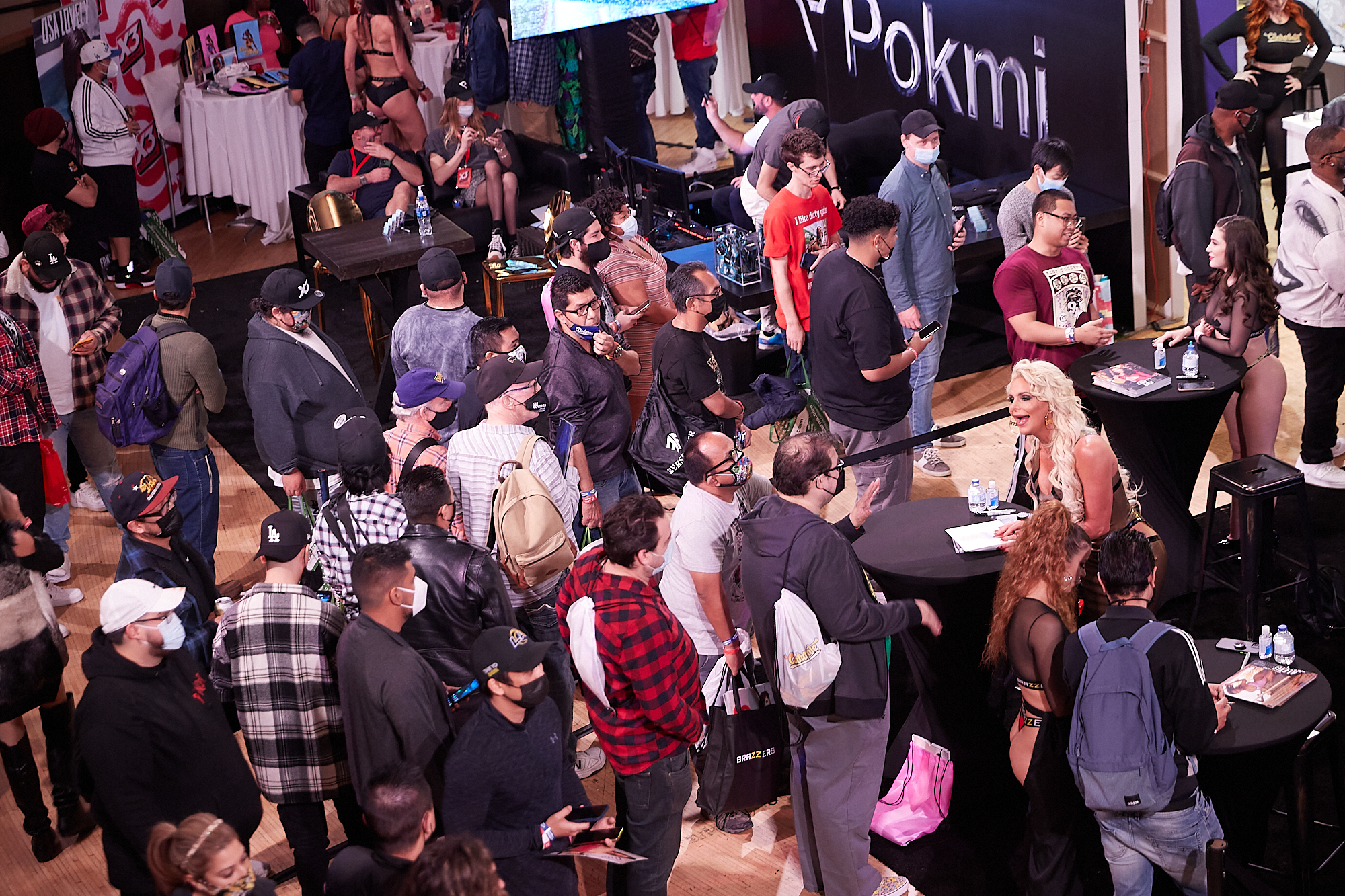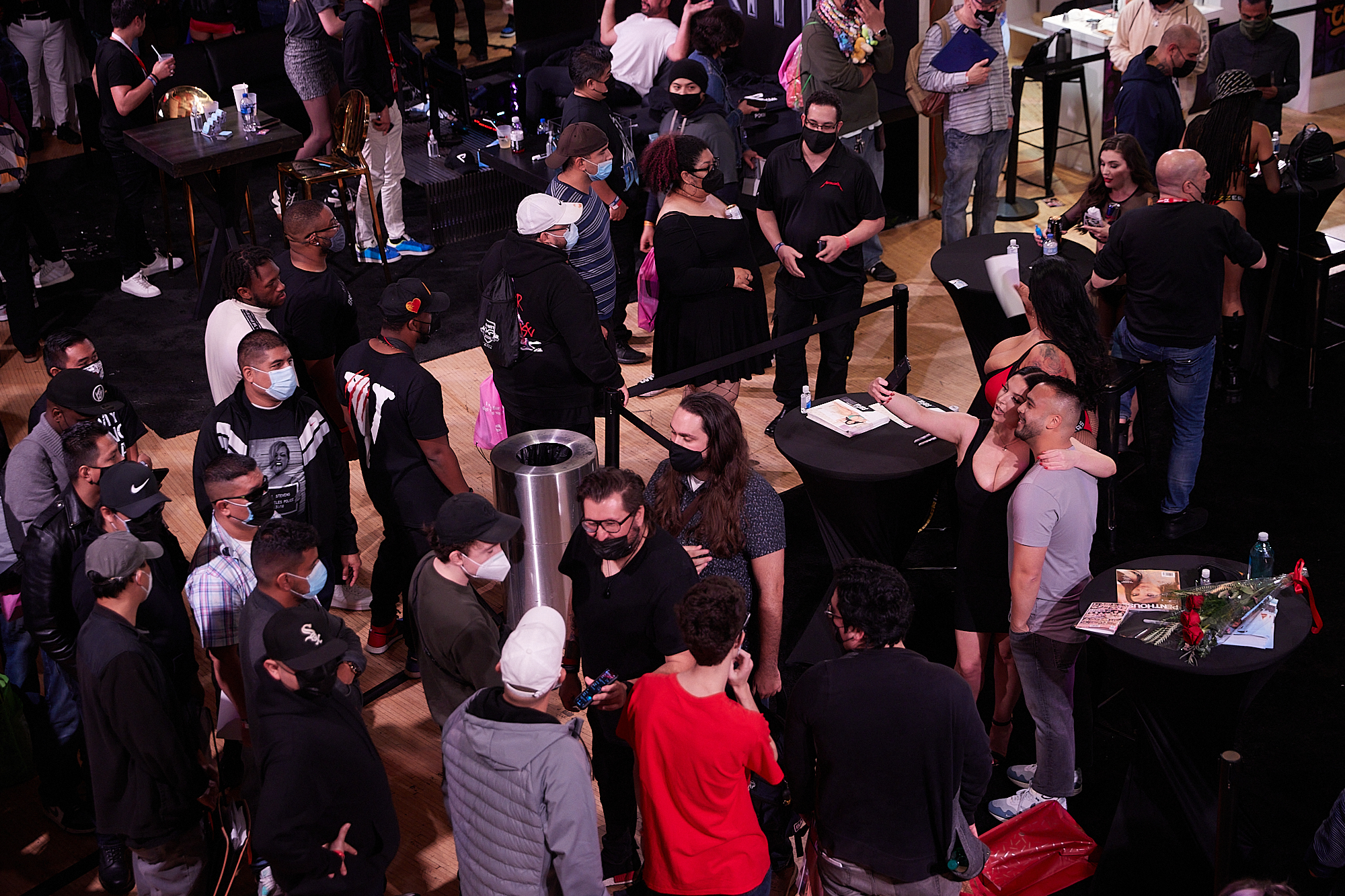 Back on the expo's main floor, Siri Dahl enthused about the opportunity to connect with far-flung fans.
"This has been such an amazing event," she said "I got to meet all my fans. Some of them flew all the way from New York specifically just to meet me. It has been amazing and I'm so glad that everything has worked out, despite the challenges. I cannot wait for this to happen again next year. Thanks so much, XBIZ!"
Lauren Phillips echoed Dahl's enthusiasm from the bustling Chaturbate booth.
"Oh, man, it's been amazing!" she exclaimed over the happy din of the crowd. "I love how different platforms [each] have their own personality. Being at Chaturbate, they treat us great. This has been a great turnout. My fans were so excited! I hope XBIZ does it every year because it will just get better and better."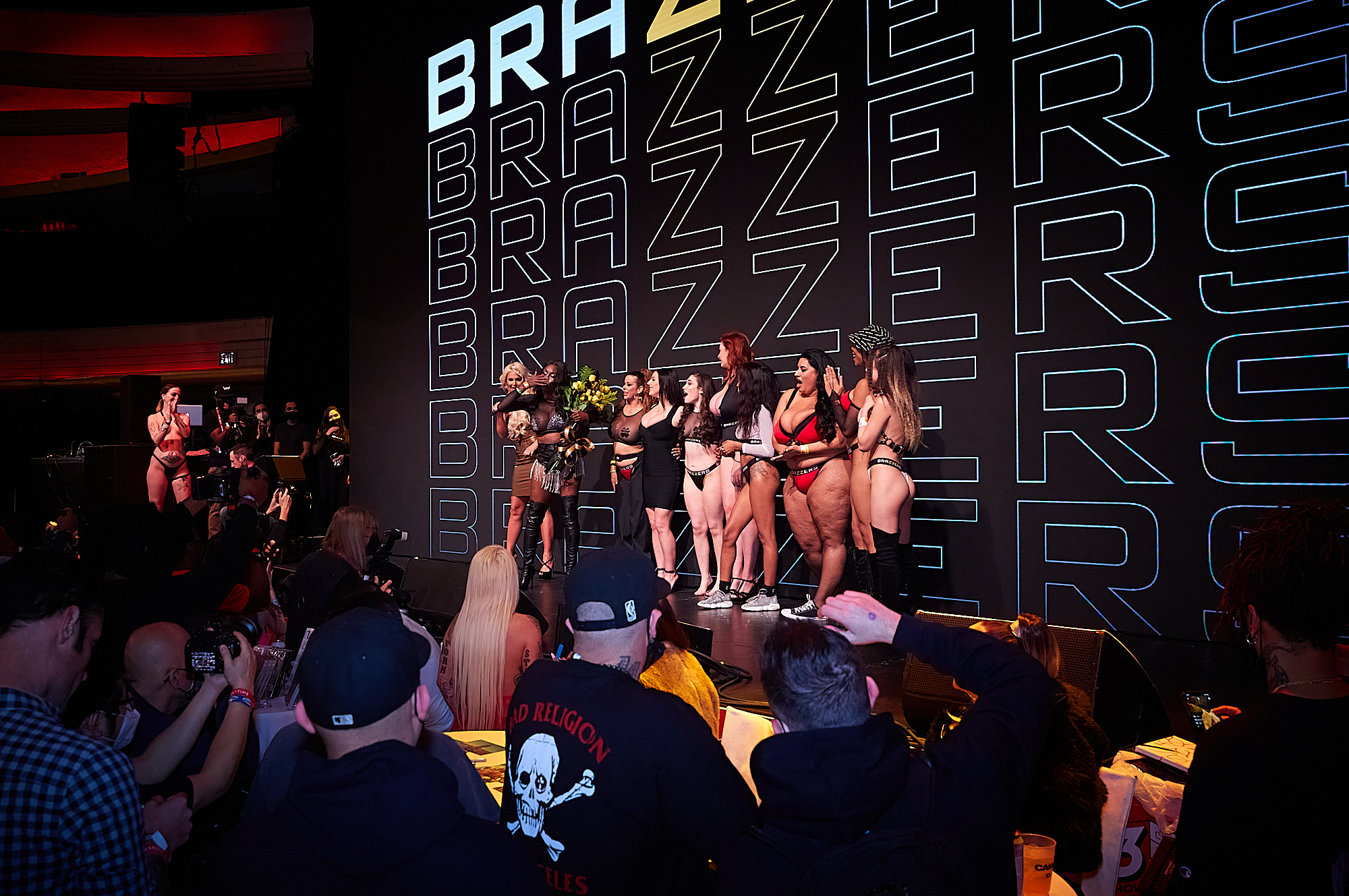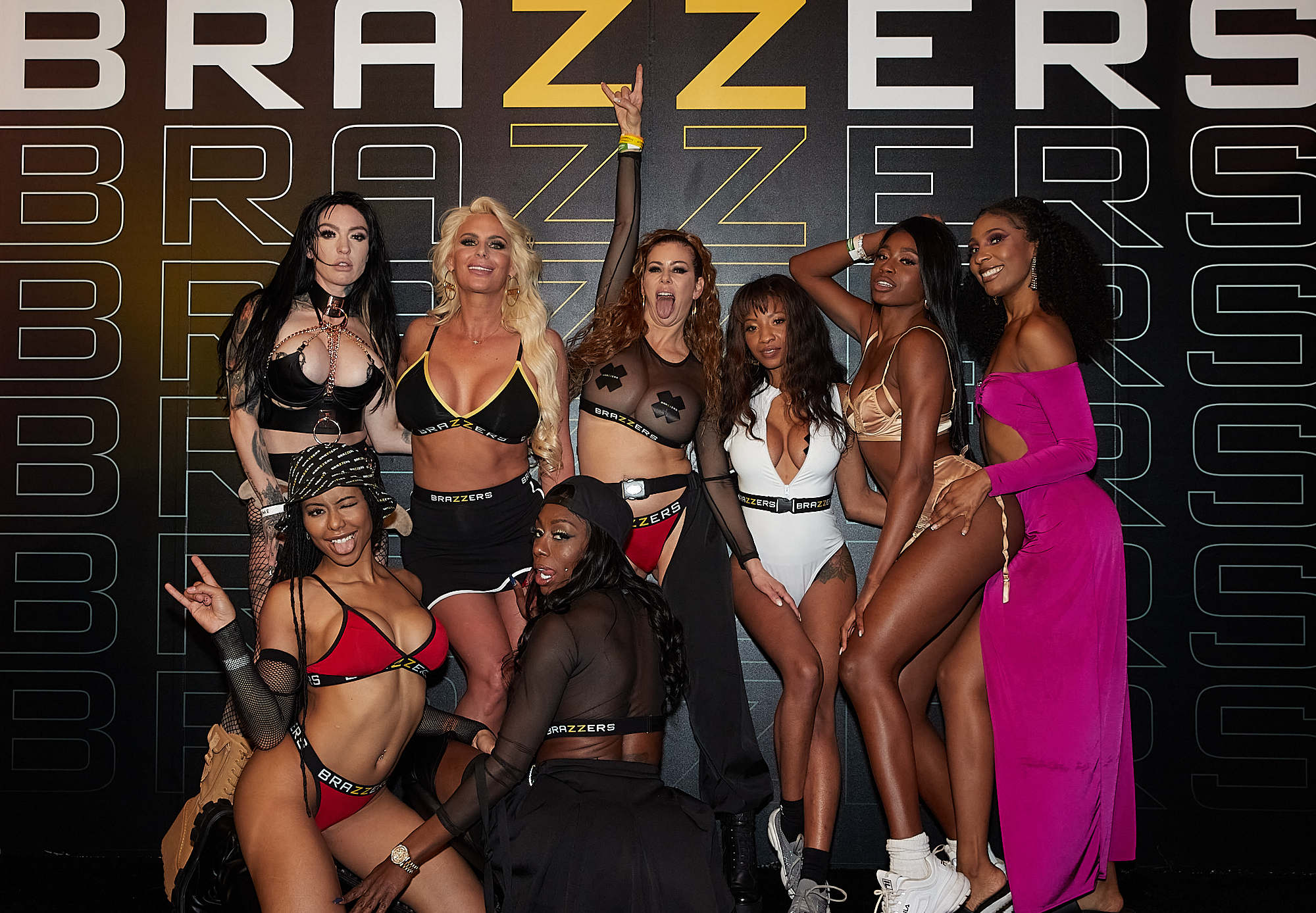 Fellow Chaturbate broadcaster Johnny Stone described the X3 Expo vibe as "awesome, and super-chill."
"I've had a lot of fun! The venue is super-filled," he said. "I like how it's been organized and operated; they really checked vaccinations and I liked seeing that. I've had my fans coming in — in fact, I see one of them coming over here right now! It's been pretty cool."
Platform rep Natasha told XBIZ she enjoyed the overall vibe of the weekend.
"It's relaxed and not as fast-paced as other expos, especially with such a great turnout," she said. "It's so busy, which is really nice for our amazing talent." She particularly praised the overall layout and crowd control. "The fans have been very respectful," Natasha observed. "They just want to talk to the models and have an experience with them in-person, versus sharing them on cam with thousands of other viewers."
She pointed out the A-list lineup at the Chaturbate booth, from Phillips and Stone to Lana Del Bae, Casey Kisses and Jenna Gargles. "We're known for being inclusive and so it's been nice to see everyone come together here," she added. 
Chaturbate COO Shirley Lara, as she took in the activity surrounding her company's booth, said she is "super-happy for XBIZ to have a successful consumer show in the middle of a pandemic."
"They've done an amazing job," she added. "We're so proud of them and we're a proud supporter."
Nearby, Men.com and Sean Cody talent pressed the flesh and snapped photos with fans of the famed beefcake studios and new admirers whose interest was piqued by the muscular studs.
"We were really happy to have taken part in the first X3 Expo," a rep enthused. "Looking forward to future shows!"
JustFor.fans founder Dominic Ford was front-and-center at his company's booth and told XBIZ "it's been a great day."
"A lot of people turned up. Our booth has been nonstop all day. We have two 'porn sets' here, a dungeon and a locker room, and tons of models with fans taking photos all day with them. This has been very successful for us — and I'm glad to finally meet people in person again after two years of only tweeting at people," he said.
Legrand Wolf and a large team from Carnal Media expressed enthusiasm about the turnout.
"It's pretty exciting to have a gay presence here," he told XBIZ. "We've got a lot of people coming up to us, excited to have a gay company front-and-center. It's pretty cool to see. They haven't seen it [before]. We've also had a huge, positive response to our fan platform, Fitcher, that we just launched. We tell them it's a 100% payout for six months, and afterwards it's 90% for life, and they lose their minds. It's really cool. It was worth it to be here and talk to people about Fitcher — and have a bunch of straight people ask about Carnal Media and [streaming service] Carnal Plus. They've been respectful and very sweet."
Wolf also noted additional Carnal Media sites that generated positive interest throughout the weekend are JockPussy.com and FTMmen.com, "the industry's only actively updating FTM trans sites. People here have been like, 'Damn, that's awesome.' We put it all together with our other sites in one package with Carnal Plus that we call 'The Disney+ of porn' and people love it."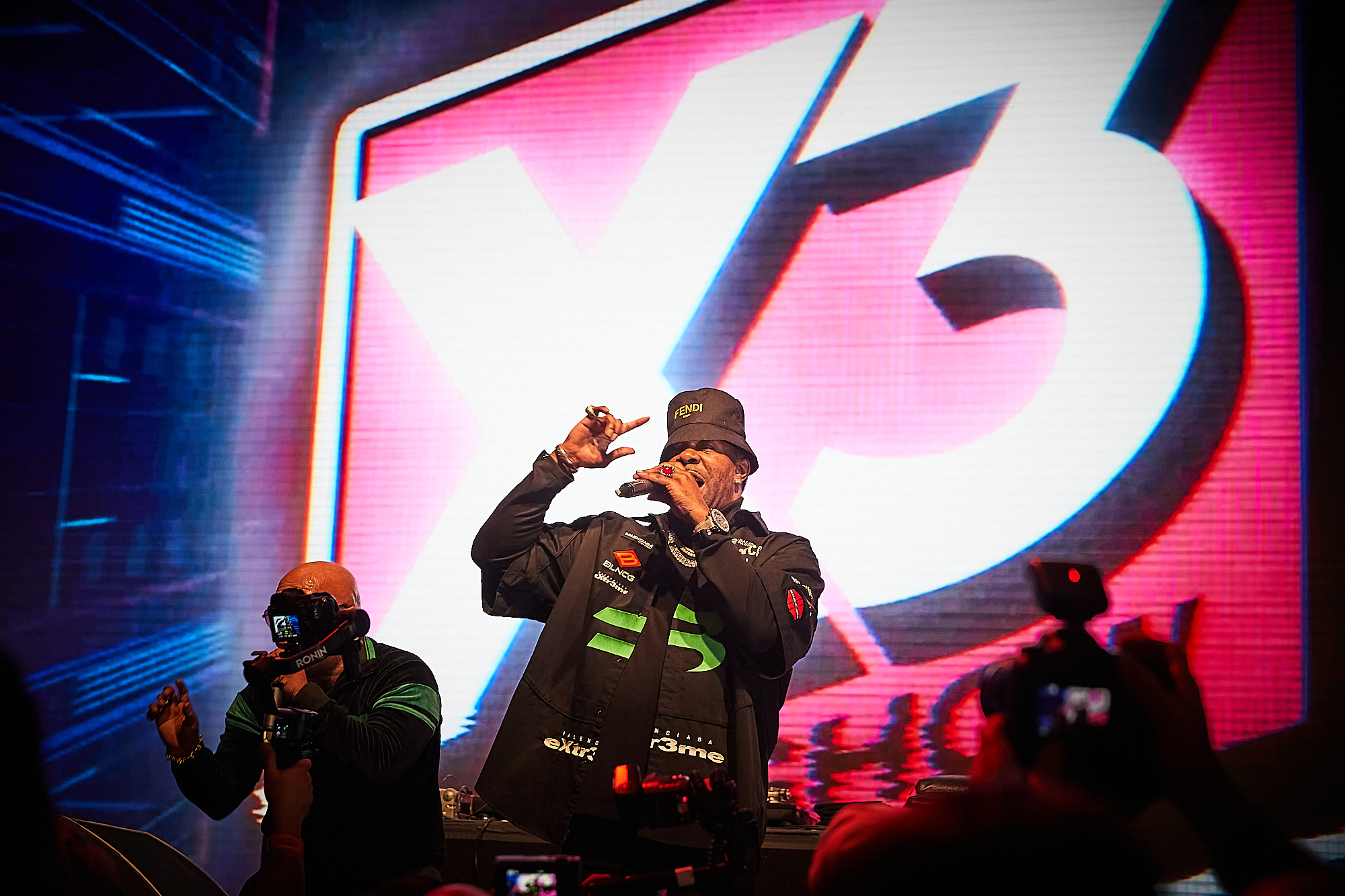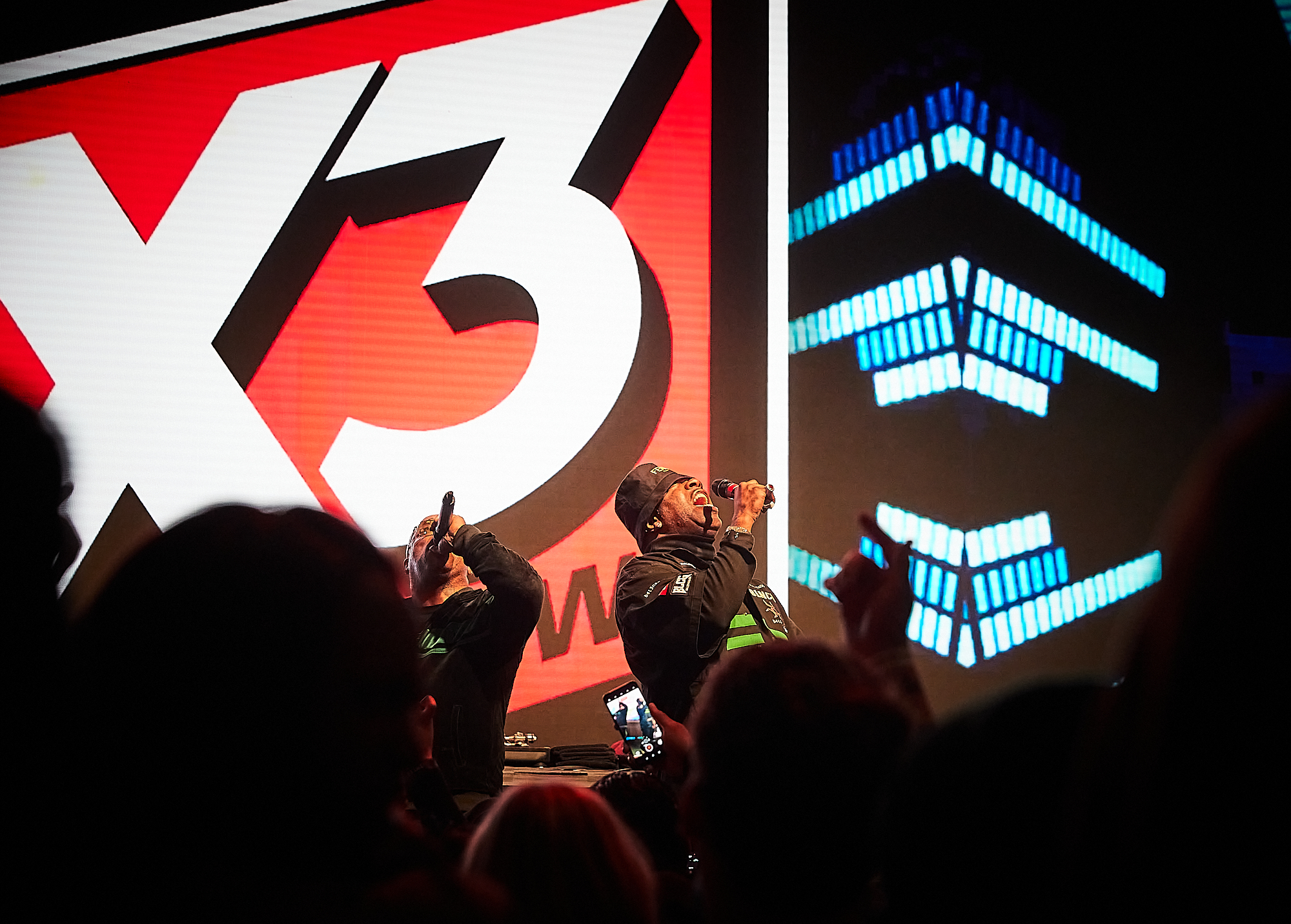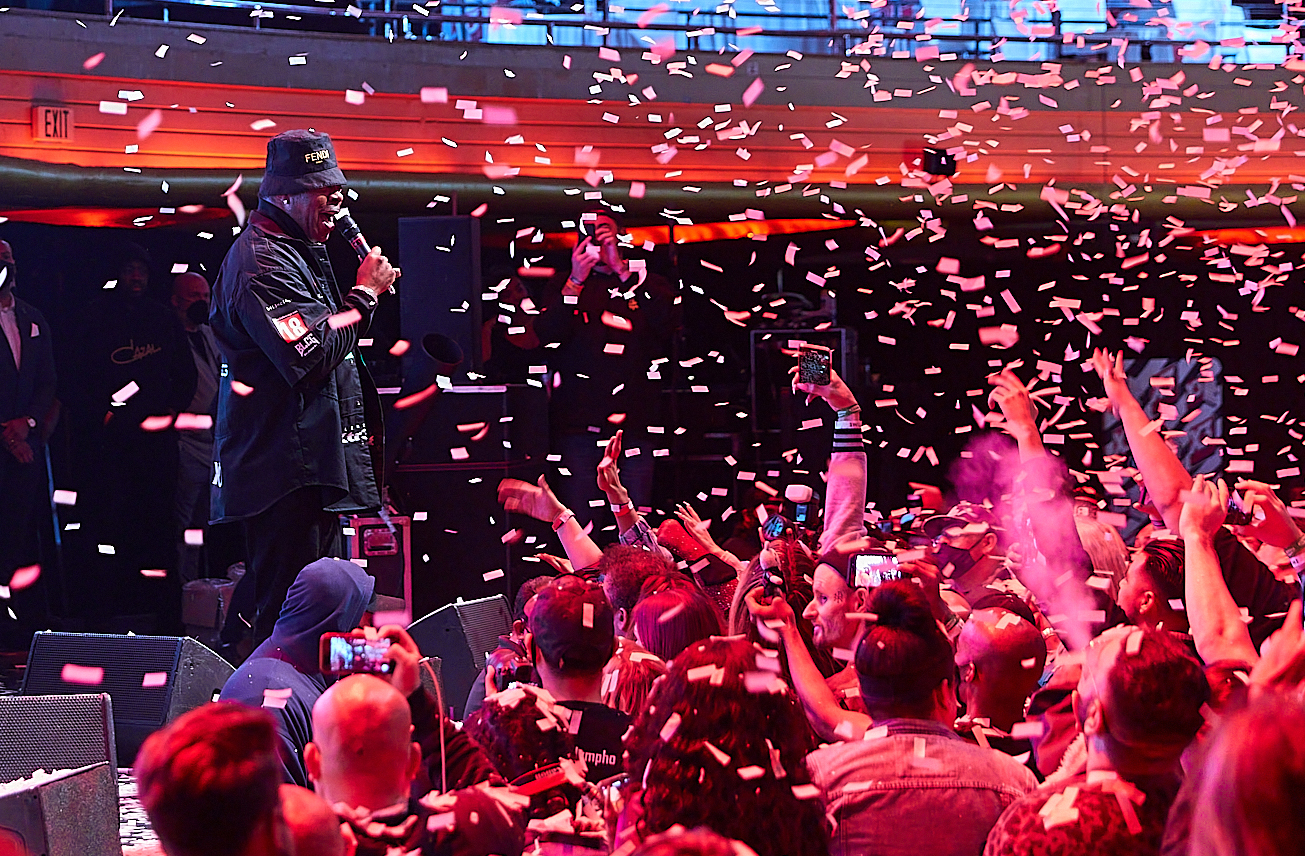 The elaborate, floral creation spaces overseen by NMG Management's Megan Stokes drew a steady crowd for a second day. 
"For us, it's been amazing," she enthused. "We have Instagram-able walls with so many amazing content creators coming through. We've met a lot of amazing people, which has been great. That was the goal. It's just been a really cool event. It's nice to see everyone in person again, especially with the times we're in."
An ebullient Alexis Fawx looked forward to walking around the Expo floor and exploring. "I've been signing this whole time!" she said, adding that she particularly anticipated the performance of headlining music act Busta Rhymes.
"I saw Too $hort last night. I [last] saw Busta years ago, so I'm super-excited," she said. "The fans have just been starving [for this]. They've all been saying, 'Thank you so much for coming out.' The line for Brazzers is always long because they're the best! But today it has just been nonstop. It's been really nice! I can't wait to run around and check everything out."
Jada Stevens was anxious to catch up with her colleagues and pleased by the turnout for a fan expo based in Los Angeles.
"I had a huge line for a few hours," she enthused. "I definitely knew L.A. would be good, but I was curious to see who would show. There hasn't been a show like this for awhile and that's why I think it's important. It's a nice setup; good girls, good companies — and people I haven't seen in years! So it's been very nice. We haven't done anything like this for a minute so it's nice to see everybody coming together."
Stevens also touted her label, Jada Stevens Productions, and a formal move into directing "gonzo-style scenes. Just good sex!"
Jewelz Blu joined a starry group of performers — Ana Foxxx, Angela White, LaSirena69, Mary Moody and Kira Noir — to perform the ribbon-cutting ceremony outside the Hollywood Palladium on Friday and returned for a second day to mix-and-mingle and perform onstage as a featured dancer.
"The turnout has been amazing," she told XBIZ. "I've seen so many people, so many fans. It was also really cool to perform my fan dance and my hoop dance onstage and share my art and my passion with everybody else here. The X3 staff have been taking good care of us and just seeing all of the fans and performers together again has been like a nice little reunion."
Kenzie Anne took a moment from signing at the Fangear.vip booth to thank expo organizers for running well-organized COVID safety checks.
"I've done some interviews, taken a lot of great pictures, made some money," she said. "It's been a great time. And tomorrow is the awards show! I can't wait to show off what I'm wearing. I have three nominations and I'm going to go home happy, no matter what happens."
"I am extremely inspired by Vanna Bardot," she added, pointing out her neighbor on the expo floor. "She's got a beautiful booth going on. I went into this totally blind! Next year, I'm going to really know how to pull together my whole table."
Bardot expressed gratitude for how she and her colleagues were managed by X3 staffers throughout the weekend.
"They've been making sure everyone is good," she said. "And, honestly, all the fans so far have been super-nice and happy and having a great time. I haven't had a chance to explore yet. I definitely want to see what else is going on! But getting to see everyone, especially everything that's happened this past year, it's just nice to be all together again."
As the bustling afternoon faded into evening, and a steady stream of fans continued to flow through the Palladium, a starry roster of content creators and performers offered their take on the weekend festivities.
LaSirena69, a fan show veteran, soaked in the West Coast atmosphere, while Maya Woulfe, an expo newcomer, was interrupted during her chat with XBIZ by an excited admirer — "Shut the fuck up! I love you!" the fan shouted — and Melody Marks admitted to a case of nerves beforehand that quickly vanished.
"I loved meeting my fans and taking photos with them," she said. "It's been really wholesome and I can't wait for the next one already."
September Reign spent most of her first day at X3 meeting fans and was enjoying the chance to explore and catch up with her friends at their own booths during Day Two, while Misha Cross, newly arrived from an international flight, told XBIZ she also looked forward to connecting with fellow performers.
Kira Noir joined many of her fellow stars in praising the "chill" expo vibe.
"I love that this is happening," she said. "Everyone I've been talking with today has been saying how amazing it feels to be back. I'm having a lot of fun! Everyone just has good energy. Thank you for putting this on for all of us."
As the inaugural X3 Expo came to a close, Busta Rhymes took the stage to deliver a boisterous string of hits to a raucous, appreciative crowd for a celebratory explosion of pent-up energy that appropriately set the stage for adult's biggest night, Sunday's 2022 XBIZ Awards hosted by Maitland Ward.