HOLLYWOOD — Legions of fans lined up for the opening day of the inaugural "creator-first" fan show X3 Expo on Friday, Jan. 7, eager to see their favorite personalities within the expansive Hollywood Palladium, where a carnal festival of colorful exhibitor banners, content creation spaces, bustling talent booths, interactive VR and cinematic screenings awaited in a tantalizing wonderland.
Jewelz Blu, Ana Foxxx, Angela White, LaSirena69, Mary Moody and Kira Noir performed the ribbon-cutting ceremony outside, ushering in a new age of creators. And as fans poured in throughout the day, stars rotated like a brilliant constellation to their scheduled booths, offering a wildly different experience every few hours as the lower and upper levels of X3 continually morphed into endlessly new landscapes.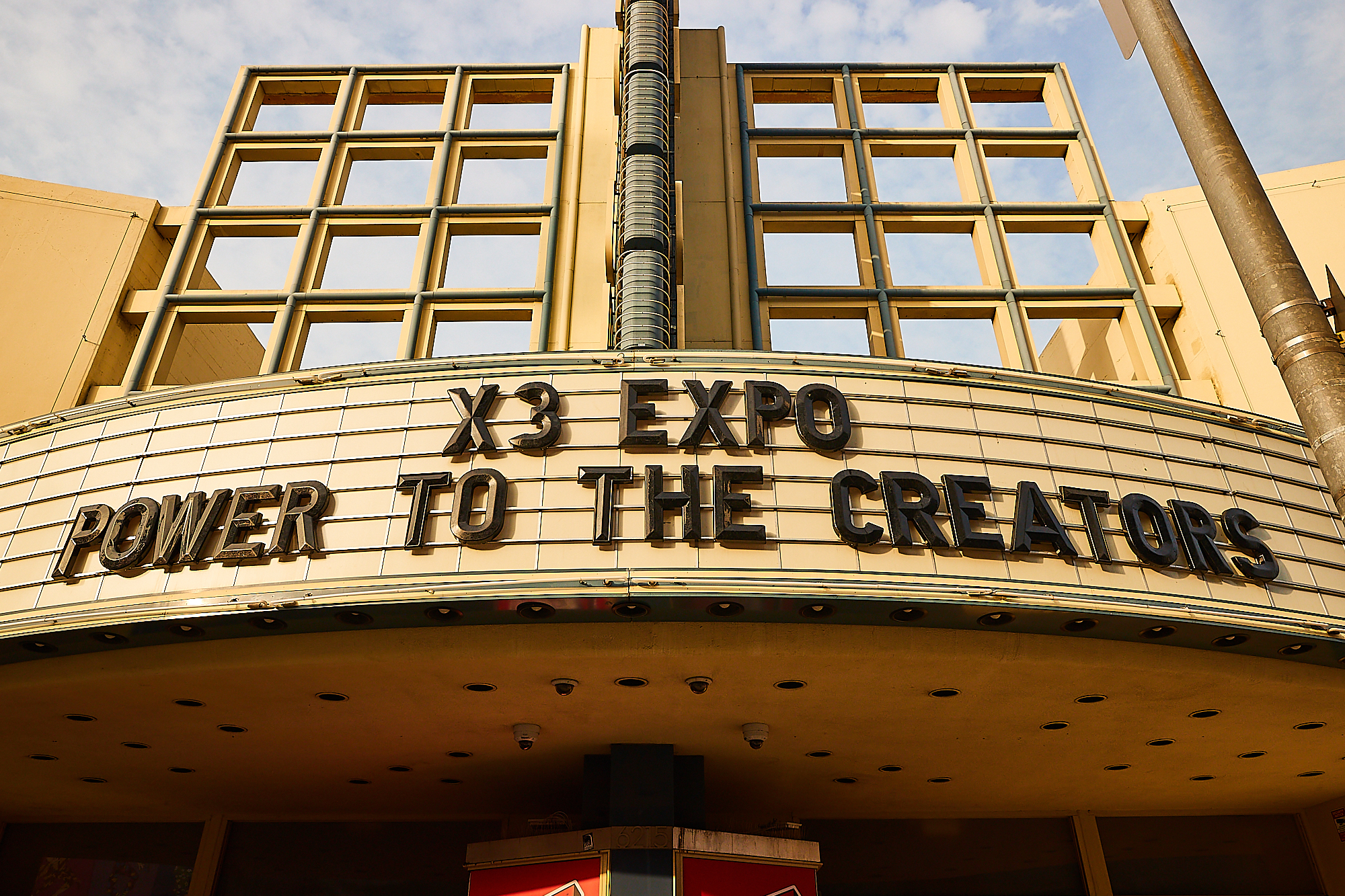 From big-name studio stars drawing huge lines at the mega Brazzers play space, to independent talent lighting up Chaturbate's front-and-center live camming section, all manner of stars and marquee brands showed off their very best and brightest.
Near the main stage, the spritely and bubbly Emily Bloom held court. "I have my on-the-go streaming setup so all my online friends can join me here for moral support, I'm sipping my PBR, I got my photos and my cards for anyone who wants them," she said with her plucky can-do attitude.
Standing beside her, Chicago native Jade Kush showed off her wares. "I'm looking forward to this," she said, as fans began to fill the area. "It's the first big convention in years so I think it'll be really fun, and I have these prints ready for my fans."
Waving from the adjoining table, Army veteran Kayley Gunner stunned in her revealing silver suit and thigh-high dark boots. "I was in the Army for five years before I started camming, and now I've been in the industry for two years," she shared. And given the tendency among adult biz regulars to refer to outsiders as "civilians," Gunner jested, "Now I can use the word 'civilian' two different ways."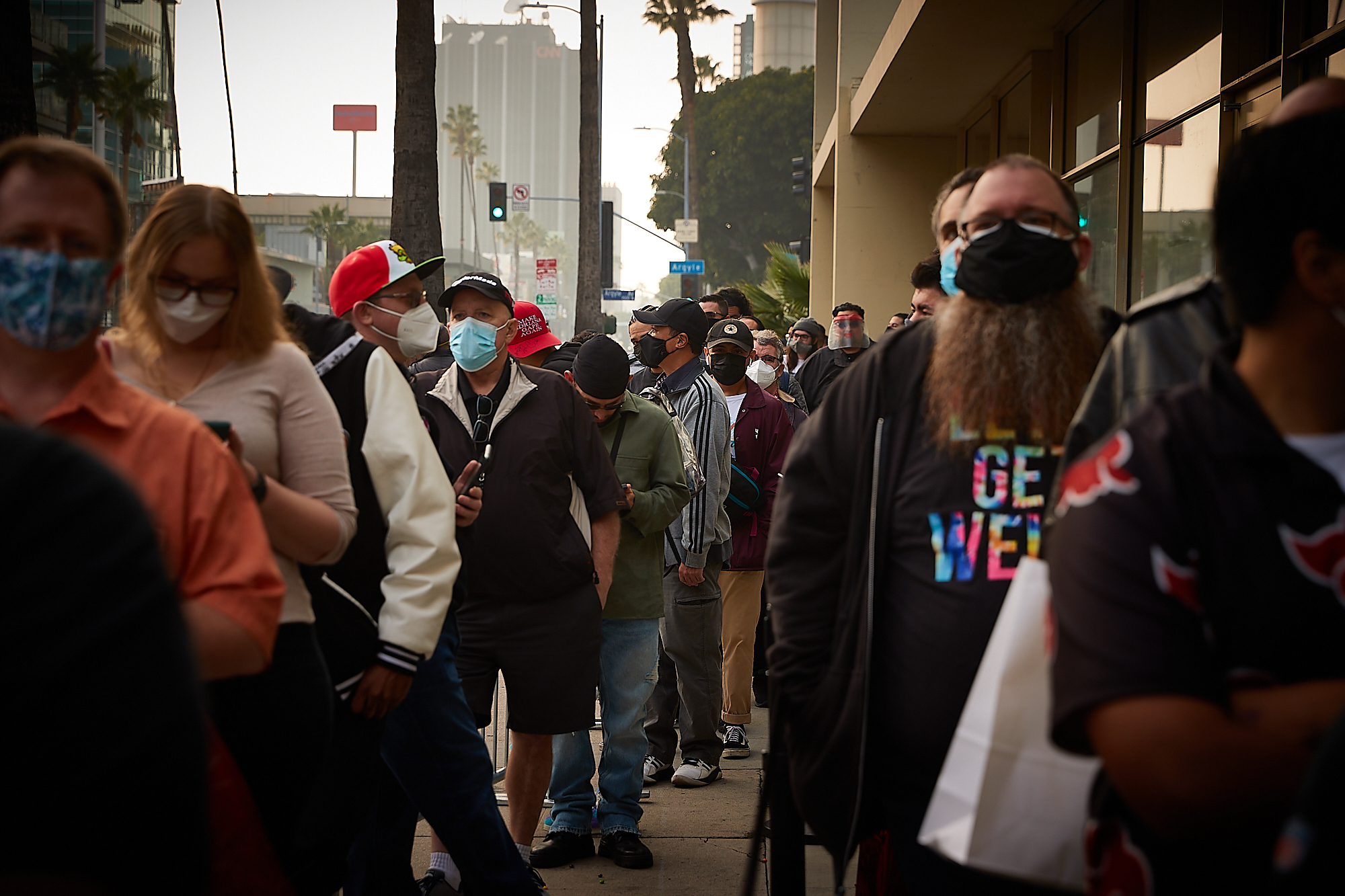 Petite blonde Kiara Cole also dazzled at the dedicated area by the grand stage, offering "I'm looking forward to seeing my fans and talking to them. I have 8x10s, DVDs, polaroids and a camera we can take a photo with together, so come see me!"
Next was Gizelle Blanco in skintight pink, stationed alongside real-life love and XBIZ Award-winning performer Ramon Nomar. "I'm super-excited and cannot wait," she gushed. "It's my first expo ever, either as a civilian or porn star. I love the setup, it's so cool! I'm going to walk around later and see everything and everyone. I have little posters here, different photos of myself and DVDs for the fans, too."
Nomar leaned forward, enthusing, "After two years without a convention we're finally back! I brought a couple DVDs, because while the conventions are mainly known for the girls, some do come to see me."
One of the DVDs on the table was "He's in Charge 3" from Digital Sin, which Nomar explained was where he and Blanco first hit it off after starring in a scene together. "This is where we met," he said, as she chimed in, "It was really passionate!"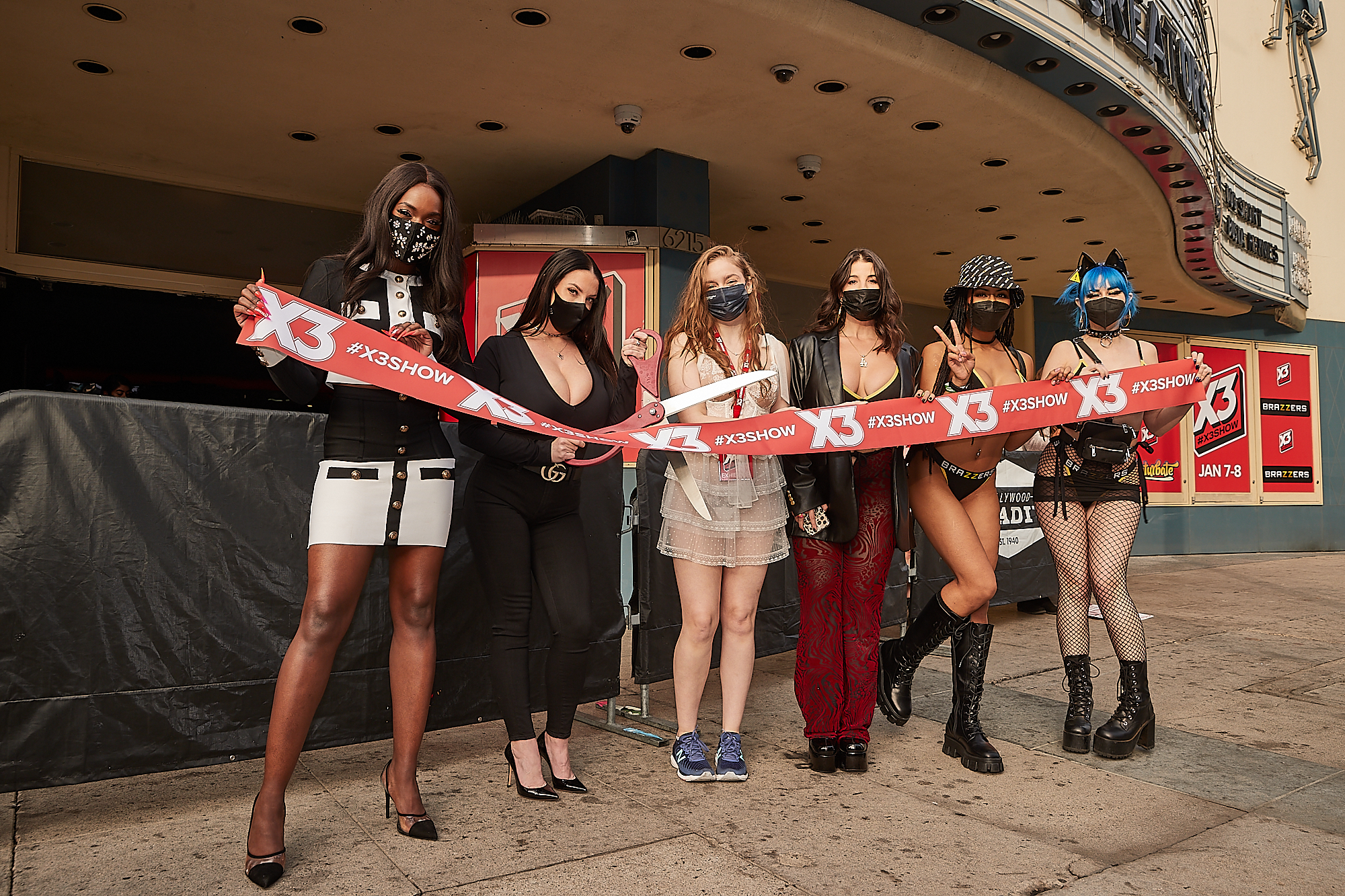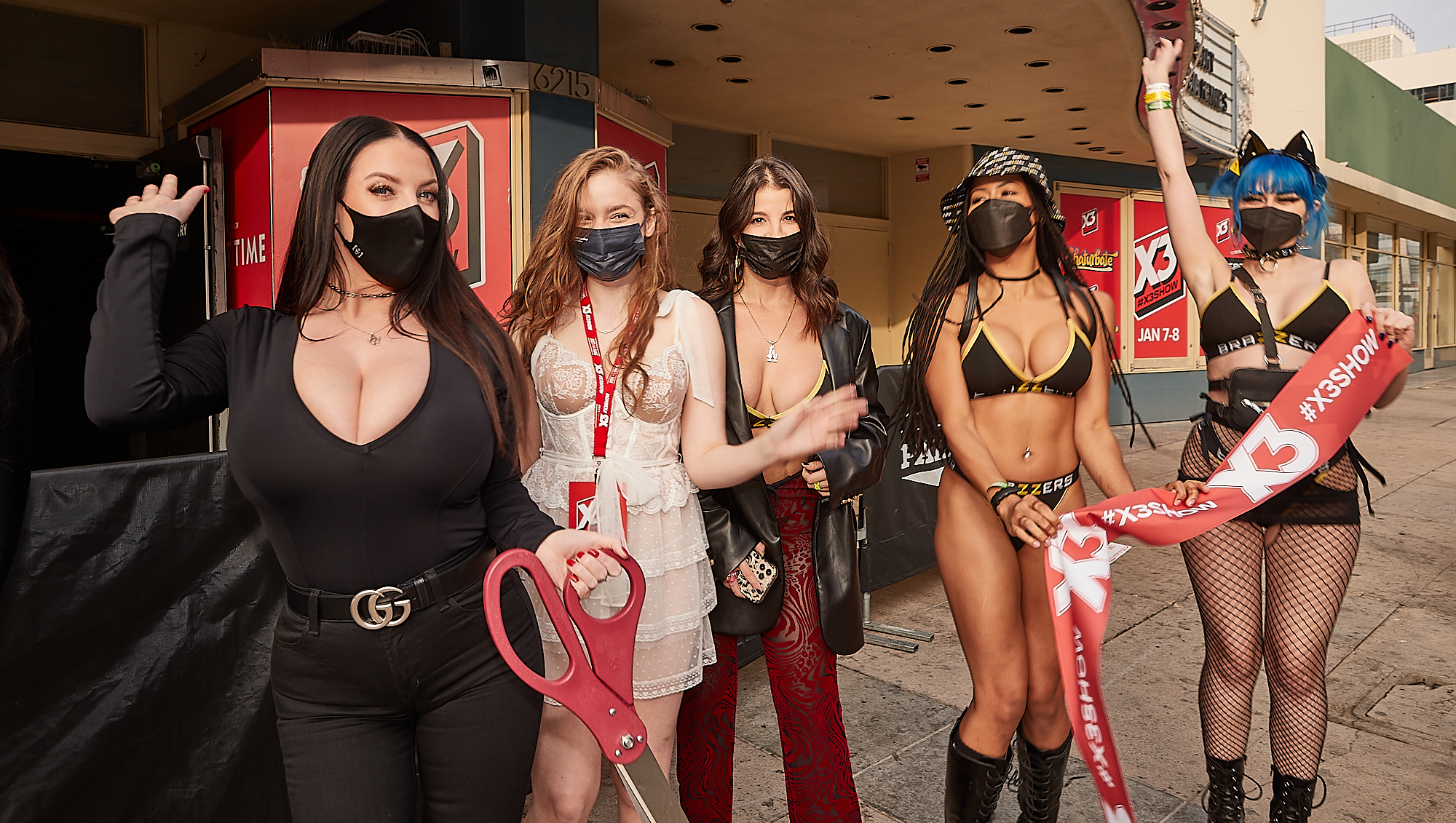 Influencer Danii Banks, who has seven million followers on Instagram, was also rocking the main stage space.
"Oh my god this week has been so amazing to be a part of this event," she stated. "I did a panel a few days ago [at XBIZ 2022 trade show] and I definitely learned a lot. Today, I'm looking forward to meeting other models, entertainers, businesses and companies, and of course, the fans."
The savvy Banks, like many other talent throughout the day at X3 Expo, seized on the business opportunities that extended beyond chumming it up with fans. Given the concentration of power players and fresh personalities, top-tier stars and newcomers alike busily networked with brands, rejoiced at spending time with long-missed peers and excitedly introduced themselves to newly-met creators, setting up all manner of deals, future collaboration plans and grabbing a few drinks at the bar.
Filling out the main stage section was popular adult star Natasha Nice, drawing many fans and photographers to her. "I think the whole show looks really exciting, it's well-decorated and there's lots of awesome brands," she said. "I'm excited to see my fans and sell all my stuff. I have calendars, posters and sex toys, and I definitely have lots of fans coming since I promoted the show everywhere."
Navigating the increasingly crowded floor to one of the brand booths, adult NFT marketplace xxxNifty head honcho Ben Fraden stood beside his model manager Silfy_Star, explaining the virtues of the blockchain-based tech.
"I'm here with Silfy and we're showing off our company, as well as discussing the NFT, crypto and metaverse worlds," he said. "I'm looking forward to meeting creators."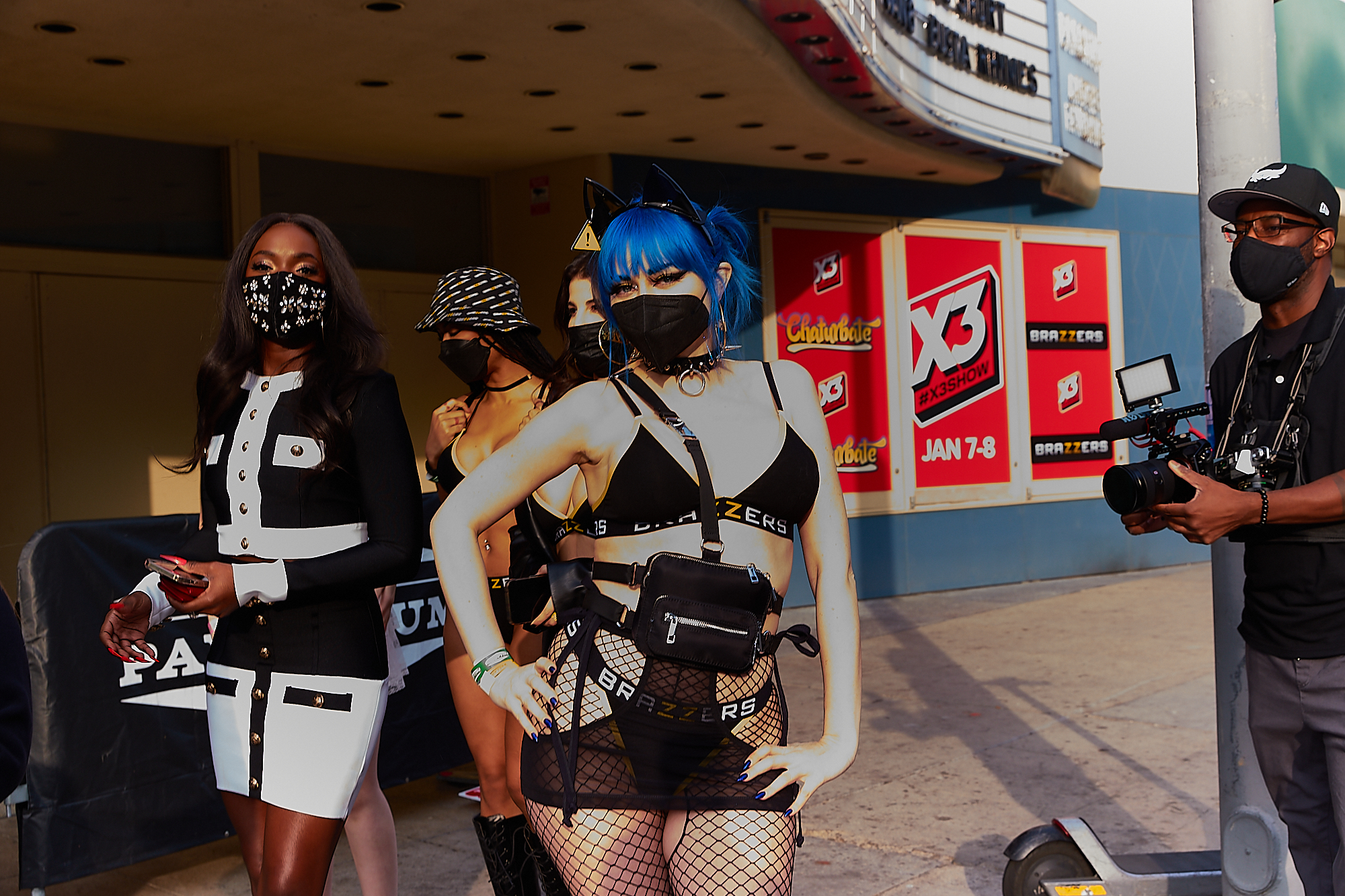 As for Star, she said, "I'm super-excited to share with fans everything xxxNifty has to offer, and the wonderful artists we have for NFTs. Creators like NFTs because they're the future."
Just as NFTs present an opportunity to create compelling content, so too did the floral and beautifully-decorated creation spaces helmed by NMG Management's Megan Stokes afford talent a way to take stellar photos. Jumbo mushrooms, rose petal adorned garden walls and emerald-green grass surrounded Stokes, as she explained, "Our goal today is to set up a very Instagram-able photoshoot section. We have an 'Alice in Wonderland' theme going and a rose wall. I'm so thrilled to be here today!"
One of the creators perusing the creative oasis was Fox Ryker, who said, "I'm a professional dominatrix and I come to events like this to collaborate with people, see my friends, learn a lot more about the industry. One of the things I love the most about fan conventions is that I get to watch how other people interact with their fans. Meeting new people and where they came from, it's so inspiring."
Meanwhile, at the Fangear.vip booth, a collector's dream unfurled, as the merch professionals showed off the multitude of custom gear options they have on tap for creators and fans. They even had entire playing card decks with 52 different photos of a star available.
And one of their most visible brand ambassadors was the vibrant Kendra Sunderland, who said, "I'm hoping to meet fans I haven't gotten to see in a long time, there are some regulars who always come to see me. And also being able to see people I haven't seen in years. I have a calendar, my magazine, stickers, magnets and rolling papers for fans, too."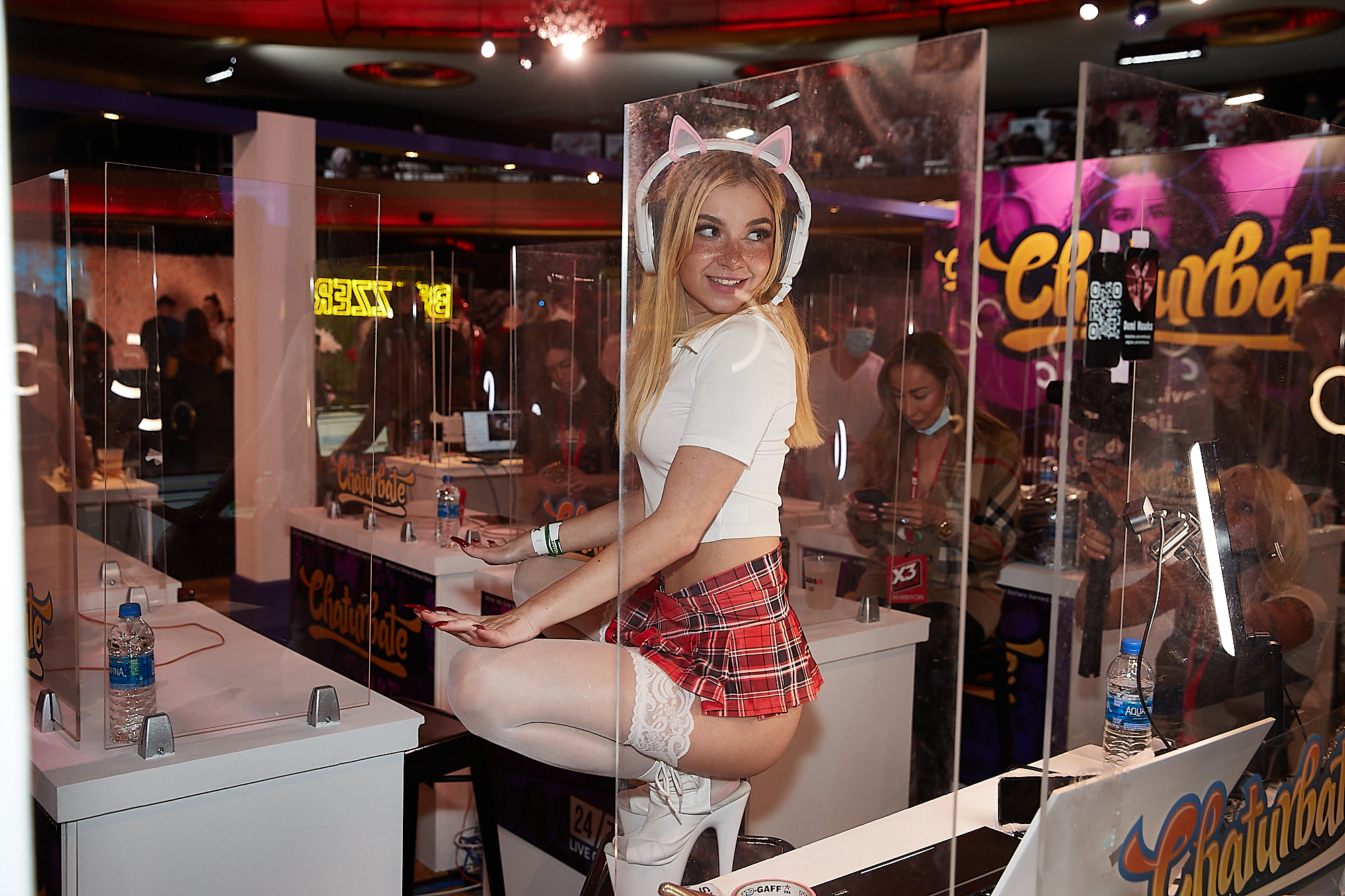 Another entrepreneurial venture at X3 was Moody's Models, whose booth was manned by founder and XBIZ award-winning cam model Mary Moody, along with her fellow Chaturbate peer Cara May.
"I am so ecstatic to have the first Moody's Models booth at a convention," Moody enthused. "I'm honored to have it at X3 and I'm excited for X3 to continue for years to come; this is a really cool setup here. It's beautiful here, it seems clean and safe, and people are masked."
As for May, she shared, "I'm excited to attend my first expo, and of course being with Moody's Models is amazing."
On the other side of the Moody's Models booth was Playboy's Centerfold exhibit, touting the legendary brand's new indie content creation platform. Superstar Ana Foxxx and her colleague, Free Speech Coalition industry relations advocate Lotus Lain, were lighting up the booth with their charisma and more than a few paddle spankings, much to Playboy exec Holly Ruprecht's delight.
Fresh off a win at the 2022 XBIZ Honors ceremony earlier in the week, where PlayboyPlus.com won "Photography Site of the Year," Ruprecht teased, "We have lots of big signings coming up for Centerfold. And I love that XBIZ is taking a chance and doing a fan convention; our team is so happy to be here."
As for Foxxx, she noted, "I'm super-excited to be a part of the Playboy Centerfold booth, as well as seeing everyone come out for the first time since who knows when," while Lain commented, "I'm happy to see everyone being as safe and out here as possible, because there's still a big number of people, but we're maintaining our social distancing while still being sexy. I'm seeing people I haven't seen in ages and I love that."
Moving from the first floor to the second floor, which was dedicated to solo booths for creators and where cinematic screenings took place in a dimly lit room near the top of the stairs, fans milled about taking photos with their favorite stars.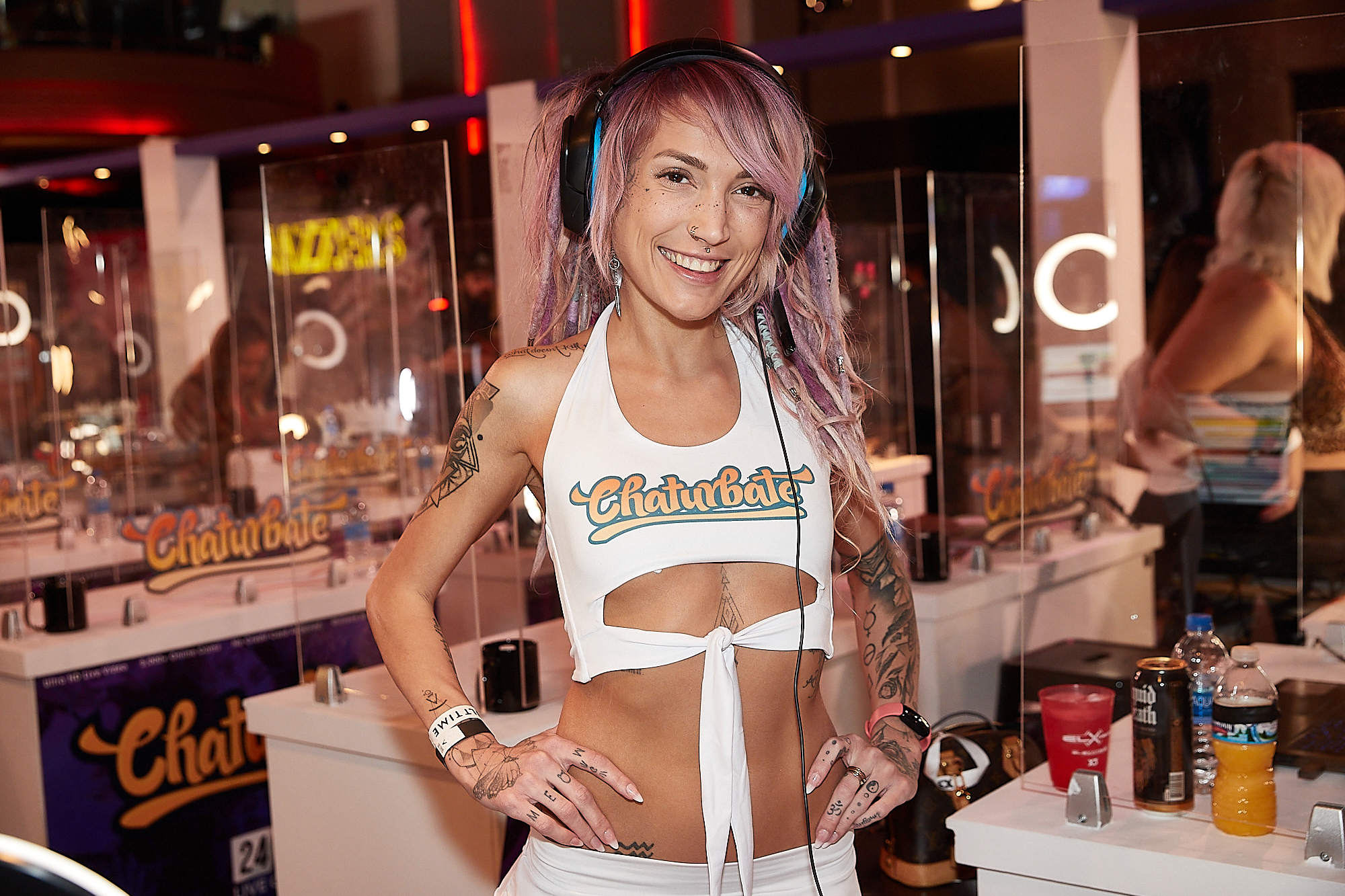 One such talent was feisty blonde Jazlyn Ray, who said, "This is so amazing, I've had so much fun so far; I love being here. I have some merch I'm selling, like T-shirts, personal Polaroid originals and I have my Vixen posters."
Hanging out beside her was Kay Lovely, who shared, "The day has been absolutely fantastic, I've met so many fans, it has been the best experience I could ever ask for, especially being new in this industry. It's been awesome to see there's so many people who actually knew who I was."
From booth to booth, stars studded the upper deck with their radiance, as MILF creator Sofie Marie expressed, "X3 has been very good, I love meeting fans in person this year; I have some sexy 8x10s, 2022 calendars and DVDs to give away," while the tatted Evilyn Ink explained, "I love this show, it's been super fucking cool, lots of amazing performers are here and the crowd has been super respectful."
The likewise tattooed Nova Sky brushed aside a strand of her bright red hair to share, "It's been great today, this is the perfect environment for a sex expo; I have interesting prizes, lots of fetish items, polaroids and selfies. I shoot a lot for studios and am repped by 101 Modeling."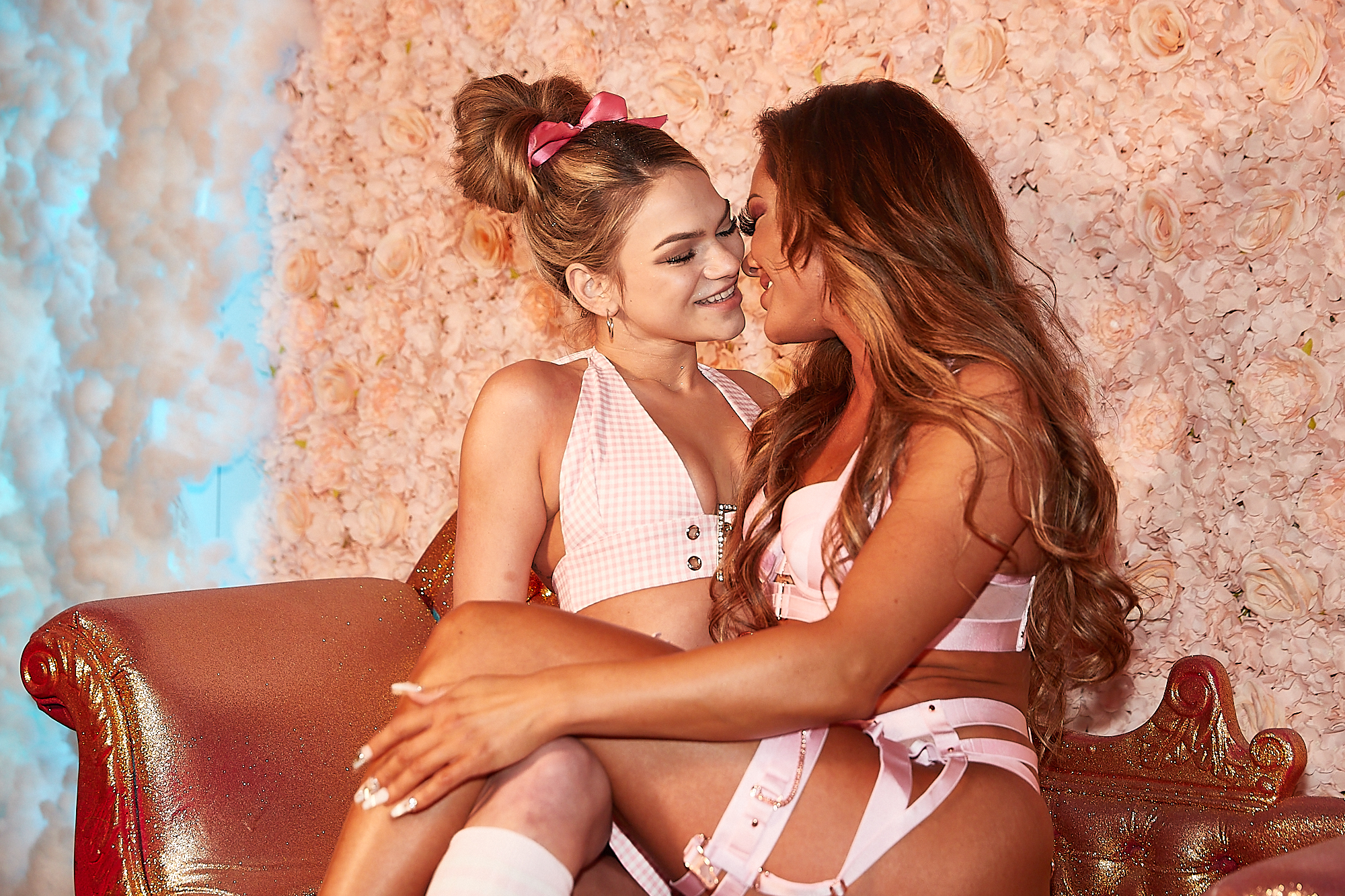 Nearby, a talent booth featured Doctor Grey, Viva Athena and Exotic Claire. The doc said, "This has been great, thanks for having us; it definitely feels safe and I'm glad we made the event." He introduced the two talent with him and continued, "We're honored to be here. I'm a fetish video producer down in San Diego, Viva Athena is an adult video star and Claire is a fetish model I work with. Athena and I started during quarantine, so we called ourselves the 'COVID Couple,' and won 'Newcomer of the Month' from Pornhub."
Another kinky pro was Becky Phoenix, who had a spin-the-wheel gadget and raffle tickets on her table. She expressed, "I can't believe how great it has been seeing everyone again, everyone is so awesome and super-nice. This is my first expo as a content creator. I'm doing wheel spins to give away stickers, candy and spanks … but my fans don't realize that they're the ones getting spanked if they win. Consensually, of course!"
Switching gears from the heights of the Hollywood Palladium back to the first floor, the Chaturbate section was agleam with halos as ring lights cast their luminosity on a dozen cam models streaming for their online fans.
Shielded by glass panes for extra social distancing safety, as well as corded off by velvet ropes, the stellar talent pivoted deftly from engaging their in-person and virtual admirers. Lana Del Bae, with her cotton candy-pink hair, tats and piercings, was whirling about and putting on quite a show. "I haven't walked around yet," she confessed, "but while I've been camming, everyone who's come up has been super-nice and positive. I love the quality of the event so far and the upper deck you have for the signings, and I love the WiFi quality as well! Of course, I love Chaturbate, because they are accepting of everyone; they are nice to you no matter where you are, whether you're brand-new or a super-veteran. Chaturbate loves you the same."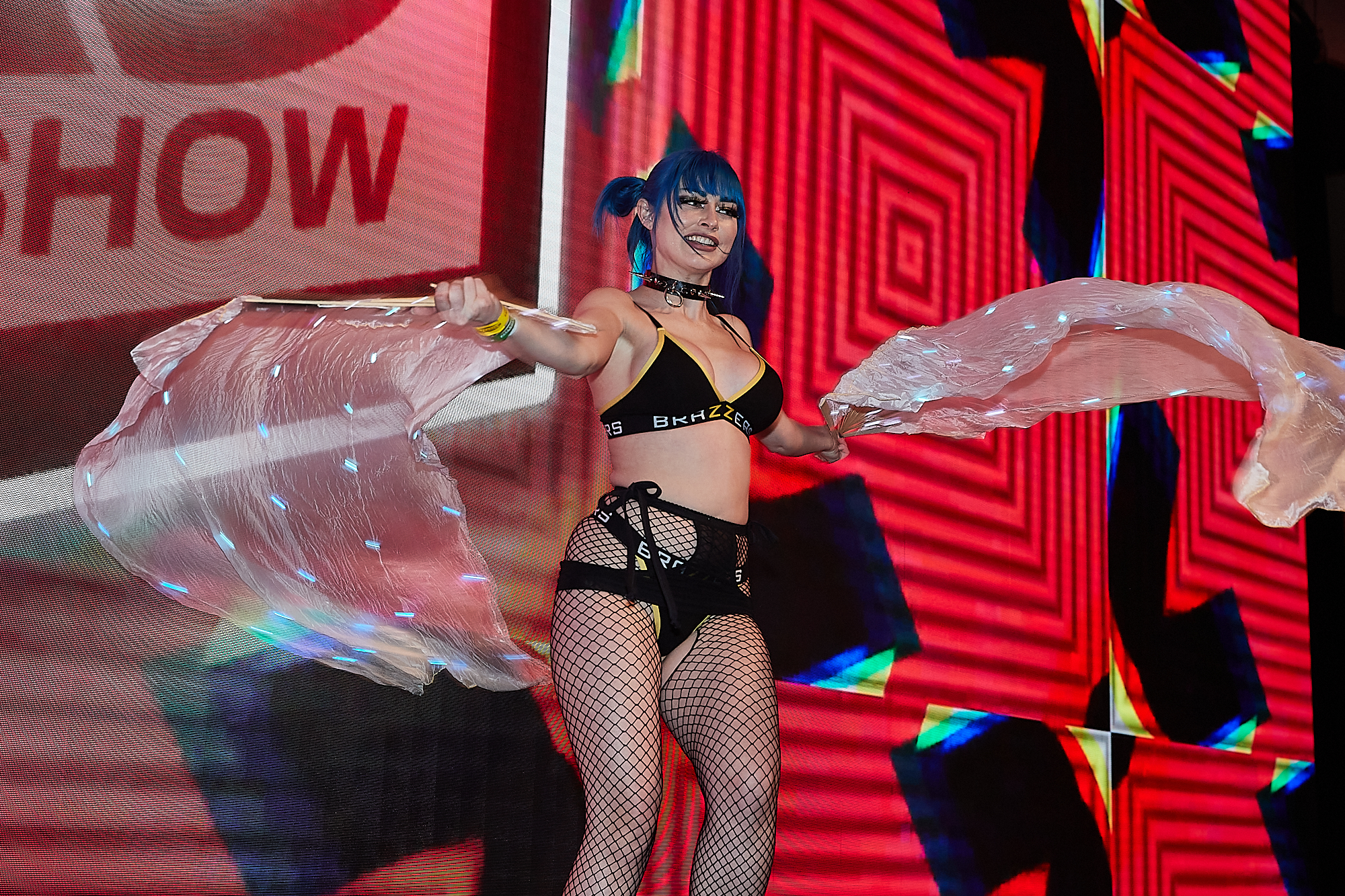 Also basking in the limelight at the Chaturbate booth was adult star and cam model Lauren Phillips. The scarlet-maned streamer expressed, "I think this is amazing, because I got to see people I don't usually get to see right now. I have seen so many friends, and I'm representing Chaturbate today, because I'm a part-time cam model, even if I'm a full-time porn star."
Joining the veteran models was newer talent Busty Beauty, who fully lived up to her name, and shared, "This has been great, you did a really good job of bringing so many different creators together."
Taking a moment then to check in on the cinematic screening upstairs, where Lust Cinema was putting on "Primary" to a completely packed room of viewers, it became evident that fans were eager to see the polyamorous narrative and enjoy the Q&A session after with the stars and director Casey Calvert.
Afterwards, Calvert explained, "The screening went fantastic, we had standing room only, so it was amazing. I'm super-excited to be able to screen my big production and that we're here. Thank you for the opportunity to screen my film. I think the audience gave a lot of great feedback, so that felt really good. I had with me Victoria Voxxx and Ana Foxxx, while Lina Misitzis from 'This American Life' came to ask questions. I'm so happy that X3 is happening and that we're all here right now."
In the distance at that moment, a huge line was forming for Brazzers, who maintained a bevy of superstars all day, like LaSirena69, who has millions of followers on Instagram and Twitter. "This is a super-good expo. Everyone should come; I'll be here today and tomorrow," she said, before offering "mucho amor" to her fans.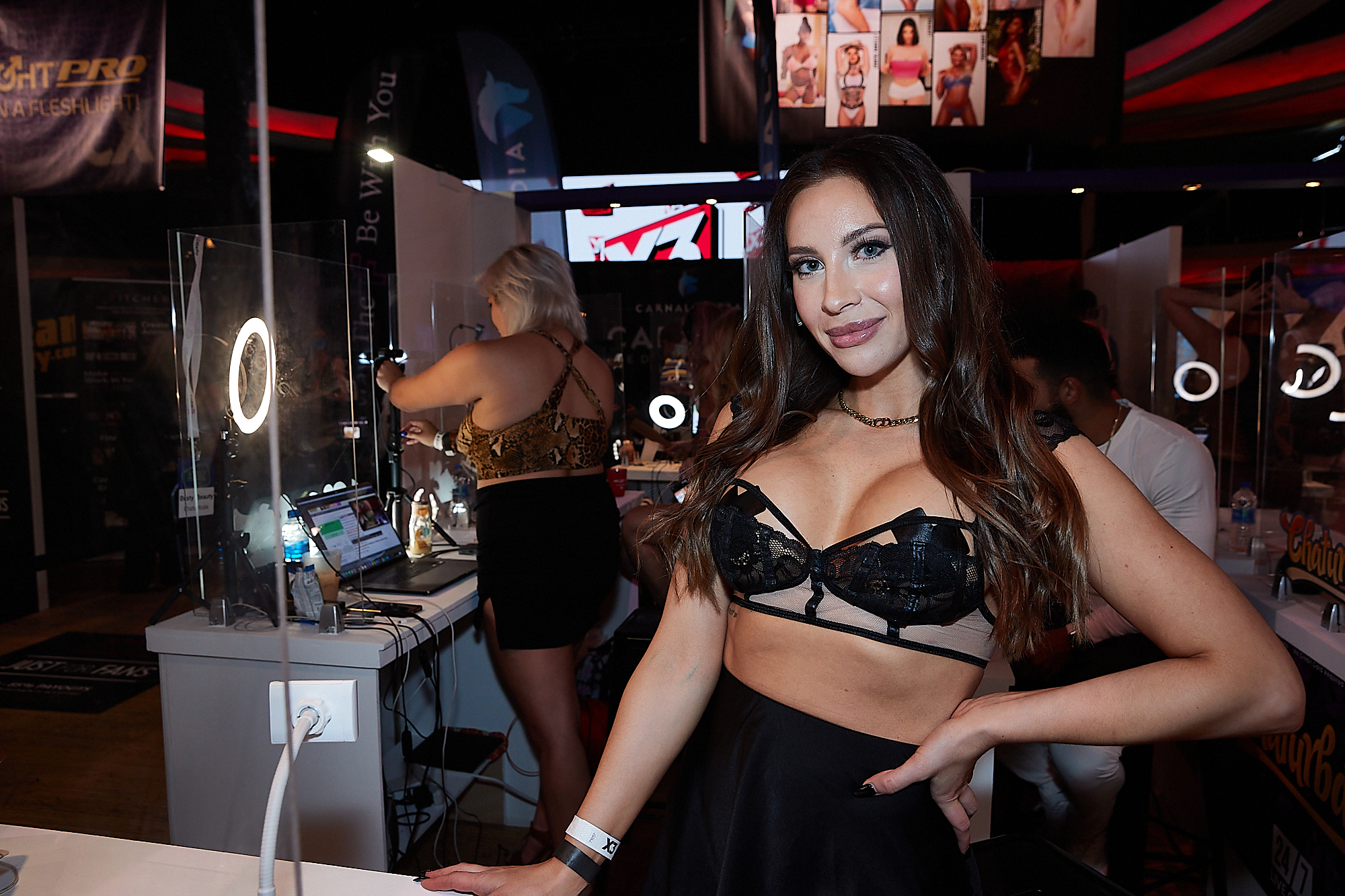 Behind her, Jewelz Blu was in full blue garb, looking very much like the anime cosplay dream girl her fans adore. "X3 is honestly so amazing, I'm so happy with the turnout, it's so great to see all the fans here and all the other performers," she said. "It just feels like the good old days. And it's so awesome. I'm here at the Brazzers booth now, representing Motley Models."
Having recently performed on the grand Palladium stage, Blu added, "I did a stage performance with my LED hoop and my silks. It was so awesome to share my passion with everyone at the convention and I loved it. I had so much fun doing it."
MILF extraordinaire and Brazzers babe Alexis Fawx, who had just arrived at the company booth, said, "I just got here and I can't wait to meet all the fans, say hi and have conversations with them." She then proceeded to nimbly leap onto a table and perform a sexy dance with impressive flexibility.
At one of the solo booths close to Brazzers, another adult star was enjoying the attention of her fans, as Ember Snow welcomed one and all to her stand. "This has been amazing so far. I'm glad I'm able to be found by my fans," she said. "It's cool and so easy to navigate, too. I have DVDs and I'm doing selfies with fans."
Another mega booth was NFT and crypto platform Pokmi, which featured live Twitch streaming courtesy of brand ambassador Manuel Ferrara, and was captained by several execs who had recently taken home the trophy for "Emerging Web Brand of the Year" at the 2022 XBIZ Honors several nights before. Co-founder Nils Lataillade touted, "We have an exquisite collection of NFTs and are unlocking all the possibilities of the blockchain. It's really incredible to be here, with so many interesting people, clients and partners. We're very excited to participate."
Kayden Kross was also on hand, working tightly with the team, explaining, "Manuel is heavily involved with Pokmi and he naturally asked me if I wanted to be a part of it, and with everything going on it took a while to get to this point, but I'm officially signing with them and we also have Maitland Ward and Abella Danger. We're taking banks out of the equation, nobody's going to tell you that you're an illegitimate business tomorrow."
Later that day, Ferrara and Kross would screen "Muse 2" from Deeper, while presenting a post-screening Q&A with herself, Ward and Ferrara, as they dissected the narrative nuances and their goals for the ambitious feature project.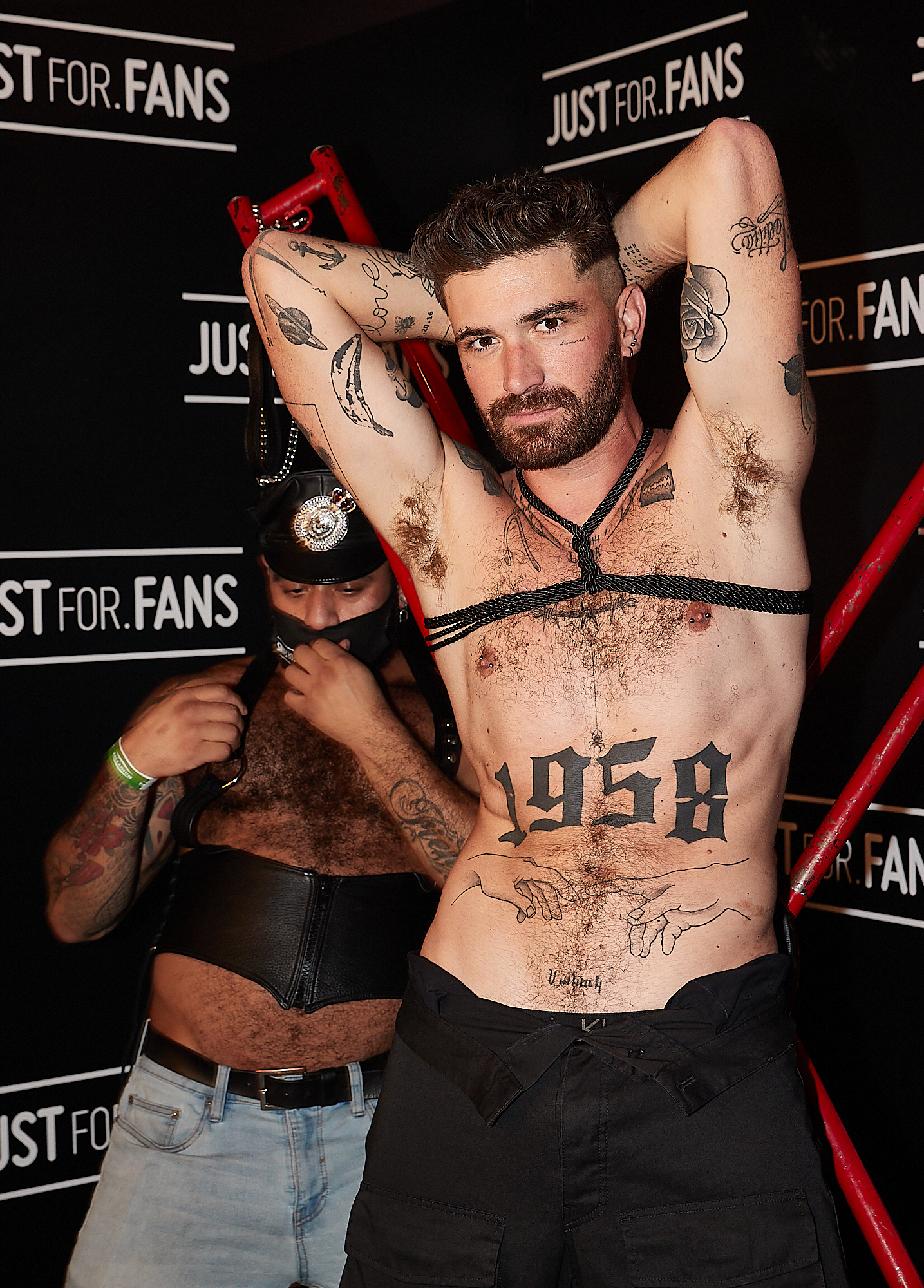 Also partaking in the carnival atmosphere were Caitlyn Brooks and Rose Isstar, each similarly festooned in fuzzy see-through outfits of pink and orange, respectively. "This is absolutely phenomenal, I'm so happy to be back with my fans in person, in a tangible environment like this," Brooks said, while Isstar chimed in, "I think this is one of the coolest conventions I've ever been to; I love the setup, the people are super-friendly and there's so many interesting booths. There's pretty girls, interesting attendees, sex toys, places to photograph, 360-degree VR cameras and just so much."
Circling the perimeter of the central show floor, much like the upper deck, fans could also encounter XBIZ award-winning trans superstar and cam model Casey Kisses, joined by her beloved real-life partner Kylie Le Beau.
"I've been walking around, seeing so many familiar faces, I just know this convention has so much potential to grow even bigger than it already is," Kisses beamed. "I'm so excited for my screening of 'Casey: A True Story' tomorrow, it's surreal, and to have my story screened live with XBIZ, my favorite, makes it that much more incredible."
Then, there was the legendary star and director Stormy Daniels, who said, "So far X3 has been pretty great, I didn't know what to expect. I'm here offering 8x10s, T-shirts, my perfume and my comic book 'Space Force.' I'm also promoting my paranormal show 'Spooky Babes,' because for the last year-and-a-half my co-star and I have been filming a TV show where we ghost hunt and investigate all things spooky."
Not too far from Daniels was the patriotic YourThickNympho, a U.S. marine-turned-adult star with hundreds of thousands of followers. "I'm having a great time meeting everyone," she said. "I'm a Marine, medically retired after four years, who started posting nudes on Twitter and then it blew up and I said, 'Why not?' Sounds fun. I went from a very strict environment in the military to a very fun one. I'm very structured thanks to the military, though, so I make sure to release like four new sex tapes a week and so I do a pretty good job of time management."
Meanwhile, adult star and feature dancer Christiana Cinn was giving away all kinds of merch and goodies, while taking plenty of photos with enthusiastic fans. "Oh my gosh, X3 is awesome, so many major stars and creators are here," she said. "I love interacting with all the girls, admiring them. I'm really impressed with how everything is; there's been such a rush of fans and brand-new stars every few hours. I actually want to go wander the show floor myself and be a fan! It's so great catching up with everyone."
Another longtime performer was Kristina Rose, who, like many solo talent booths at X3, had a line waiting for her attention. She expressed, "I'm having a blast, the energy is wonderful, while everyone's very respectful and safe, even if they're having a good time. I have posters, DVDs, special little booty hole merch and pictures with me."
Of course, beyond interacting with stars, fans could experience interactive sextech, as X3 played host to brands such as SexLikeReal, who allowed attendees to don VR headsets and check out demos. SexLikeReal director Telly was on hand to explain. "We produce content as well as allow other producers to monetize their own virtual reality videos," they said. "We are demoing a sizzle reel from the SLR Originals catalog, and so far it's been good. A lot of people jumped onto the VR bandwagon during the pandemic and that's led to the market growing a lot."
"We have lots of active users who are very engaged; they love talking to the producers, because they all want to help build the future of virtual reality," Telly continued. "We're trying our best to keep the headsets as sanitary as possible with face condoms, wiping down all of them, and while we understand we're heading to a post-pandemic lockdown situation, we're trying to be as safe as possible and ensure everyone feels comfortable."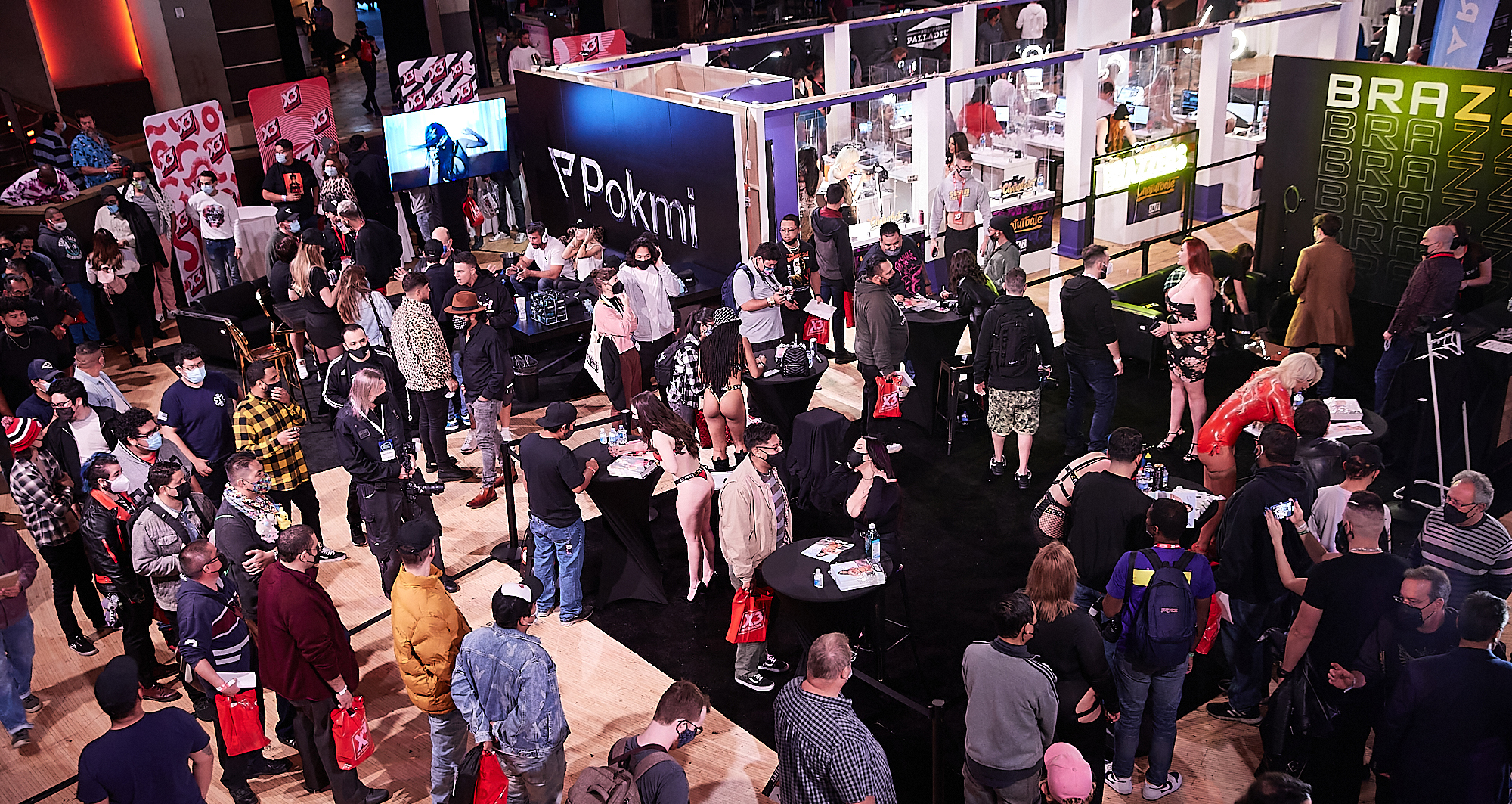 Elsewhere, XBIZ "Best New Performer" nominee Maya Woulfe was dressed in revealing white and light blue threads and finished up a chat with a fan before imparting, "It's so nice to meet my fans and experience the whole thing. This is my first expo and I'm glad to be taking so many pictures."
Then, straight from Europe, XBIZ award-winning star, director and former XBIZ Europa Awards cohost Misha Cross arrived to take her place near the main stage. "It's been amazing, I'm so happy to be here," she said. "This trip is very special because it's my first one to the U.S. in seven years after trying hard to get back here, and I finally got permission because I'm an artist. I'm excited to share I will be working for American companies again. I'll be traveling back-and-forth."
At that moment, the DJ, who had been announcing events and giveaways every hour, alerted X3 Expo attendees to the imminent arrival of legendary rapper Too Short. The crowd gathered near the main stage, drinks in hand and ready to jam out, and after letting the hype build, Too Short appeared to thunderous applause, clad in dark jeans, a hoodie and sparkling bling necklace. As he played iconic West Coast bangers like "Nasty Dance," "Blow The Whistle," "Getting It" and "Ain't Gone Do It!" among other hits and classics, phones shot up to record the spectacle, while fans and creators danced with wild abandon, loudly singing the lyrics to his well-known works.
And as Day One of the X3 Expo came to a conclusion, with guests making their way to the exits, the sense of camaraderie and joy was palpable. At long last, after years apart, the industry and its fiercest fans came together, under one roof, to share drinks, conversations and business contacts. Thousands showed up with enthusiasm and respect, for what turned out to be a home run inaugural debut of the fan show, with Day 2 promising even greater wonders.