Leadership is genderless, as is the skillset required to be an effective leader, yet there is a prevailing narrative in the mainstream media that the adult industry is lorded over by misogynistic men. But nothing could be further from the truth, especially in today's golden era of corporate responsibility, public accountability and abundance of companies led by respected figures who identify as women.
In fact, since 2008, XBIZ has been spotlighting women from across the industry, showcasing the diverse array of vibrant personalities, hard-working visionaries and inclusive activists who not only empower their peers and employees, but inspire meaningful change.
I find that one of the biggest obstacles can simply be not understanding your own strength and power as a woman. The adult industry as a whole is more open to a woman being in charge than other industries.
There is always more work to be done, of course. And there have been periods of tremendous upheaval, both economically and culturally, just as there have been events, products and practices that were detrimental and oppressive. This is as true in mainstream markets as it is in adult.
Fortunately, women are increasingly represented in the highest echelons of influential companies they either founded themselves, or whose ranks they ascended through business savviness.
They not only drive profits, they also foster a collaborative community, especially in the C-suite where a who's who of chief execs includes Shirley Lara of Chaturbate, Cathy Beardsley of Segpay, Bella French of ManyVids, Bree Mills of Gamma Entertainment, Megan Stokes of NMG Management and Alison Boden of Kink.com. And it is these six women who share their personal and professional stories of triumphs, lessons learned and hopes for the future at a very instrumental time in our history.
Because when so-called "journalists" consistently fail to include adult industry stakeholders in their reporting, with misconceptions fueled as much by personal and religious biases as by mainstream television shows and movies that portray sex work of every kind as a system of oppression and abuse, it causes real damage. It reinforces stigmas, trivializes the accomplishments of hundreds of thousands of talented individuals, pressures wishy-washy politicians into taking legislative action that ends up harming the very "victims" they seek to help and inflames systemic injustice to new heights.
So it is increasingly vital to spotlight the voices of leaders who counter this deceitful messaging, who are a living testament to the profoundly inclusive renaissance that adult has undergone, particularly in the past five years. And while their backgrounds may be as unique as their personalities, their shared values meld into a profoundly industry-positive whole that spins a far more accurate tale of uplifting entrepreneurship. They are setting the stage for a lasting legacy the likes of which any industry, adult or beyond, can reflect on with pride in the years to come.
We asked them about key moments in their personal lives that shaped their values, how they execute and mastermind their visions, professional hurdles they have overcome, the ways in which their gender identity impacted their careers and how they seek to foster a more inclusive business environment for the industry at large.
During her 20 years of working in adult, Chaturbate Chief Operating Officer Shirley Lara has overseen the growth of a camming platform which now ranks among the top 50 most-visited websites on the planet (yes, even with mainstream in the mix).
She has achieved such a milestone by fostering a highly-inclusive community of cam models, a responsive platform for adoring fans to quickly and easily seek out creative streamers and a non-stop marketing powerhouse that ensures the brand is highly-visible and in touch with the pulse of modern audiences.
Lara is also a consummate diplomat who continually learns from the people surrounding her, while taking nothing truly for granted in business or in life. Because prior to Chaturbate, she worked in other adult sectors spanning affiliate marketing and solo female sites, where she was challenged and inspired to rise with an earnest can-do work ethic.
"I have learned so many valuable lessons that shaped my values and perspectives," Lara shared. "One that jumps to mind was very early on when I first started in the adult industry; long before I had started at Chaturbate, I was working for a company helping with affiliate marketing. I was extremely successful and pulling in a lot of money for the company. I was proud of the work I was doing and the success I was able to achieve, until I realized my older, male manager was taking all the credit for my work. It was so disheartening to have someone else, especially a man, claim my work as their own. I still remember the feeling of hurt today. At that time, I realized that it didn't matter how much money I made if it's not with people I want to work with, people that I respect and people who share the same values as me."
Another key moment that helped shape her perspective was the data she noticed during her work on solo female websites, where a very particular trend emerged that others were overlooking. It was a trend which would later set the stage for her to hop aboard the Chaturbate train, with an interest in building up its mission to be as inclusive as possible.
"I saw the traffic and conversions our BBW women were pulling in and it was comparable, if not higher, to the classic 'girl next door' women," she revealed. "It was clear to me that 'all bodies are beautiful' is not just some cliché saying, but the reality. In deciding if I wanted to get involved with Chaturbate and what kind of platform we wanted to create, both of these lessons were strong in my mind. Working with people who respected me and shared my values about inclusivity made it a pretty obvious choice.
"We all agreed from the start that Chaturbate would be a platform that welcomed all genders, sexualities, ages, races, body types, etc.," she continued. "We also agreed that everyone's voice must be equal, with everyone getting credit for their own thoughts, input and efforts. This really shaped how we built Chaturbate. We strove to build and foster a community-centric platform that gives the power back to the broadcasters."
That devotion to the camming community was crucial in both Chaturbate's early years and in today's indie-driven market, where cultivating trust and respect is more vital than ever for brands.
"For me, being an executive in adult entertainment means always listening to your community, staying on top of current trends and creating a company culture where everyone feels valued and heard," she shared. "Chaturbate is a community-centric platform at its core. We work tirelessly to make sure our community of broadcasters are taken care of, whether that be through listening to their feedback on new features, hosting contests aimed at highlighting broadcasters, giving out merch, offering diverse promotional opportunities, hosting our 10-year anniversary award show and even just checking in to make sure they are OK."
"From the start, we have always structured Chaturbate with a broadcaster-first mindset," she added. "We were the first platform that allowed broadcasters to become affiliates themselves, allowing them to monetize their traffic and diversify their income. Our community of broadcasters are what make the platform what it is today and community management is at the core of our strategy."
Lara then noted that the adult industry is always changing and this past year has been no exception. For as the world came to a standstill amid lockdowns, forcing people to stay at home in self-imposed isolation, Chaturbate witnessed a "huge increase in traffic" as well as "a culture shift toward the acceptance of adult content and sexuality."
"As people were stuck at home watching porn, there was a societal change towards the normalization of sex work, camming and embracing your sexuality," Lara said.
At Chaturbate, they saw this as a great opportunity to launch their SFW video platform "Camming Life," as well as their web series "Cam_Girlfriend." Because as consumers increasingly gravitate towards their favorite YouTube, Twitch and Instagram personalities for everything from news to reviews of products, coinciding with adult entertainment viewership craving authenticity and intimacy, there arose an opportunity to capitalize on both trends at once.
"'Camming Life' goes behind the scenes of the adult industry to showcase the comical and very real stories of being a broadcaster," Lara said. "Our goal was to not only normalize sex work, but also showcase the real people behind your favorite cam stars."
She also explained that internally at Chaturbate, their team moved entirely to remote work at the start of the pandemic, adapting the way the company operates with increased Zoom meetings, weekly coffee chats and a diverse range of new programs "aimed at making Chaturbate a good place to work" due to the importance of providing "initiatives to keep our staff motivated."
Part of the reason Chaturbate remains nimble and alert to the competitive camming landscape, is that long before it was a juggernaut, Lara had to help it rise from humble roots with no less nose-to-the-grind than is required of other fledgling businesses.
"Starting Chaturbate has been one of the toughest professional hurdles," she reminisced. "Getting a cam site off the ground and growing it to the top 49th website in the world was no easy feat. Getting broadcasters to broadcast on the site and affiliates to promote the site was a fun challenge. When we first started, we had to find that delicate balance between getting traffic to the site, having enough broadcasters online and enough tips to make it worth their while. Finding the balance between traffic and tippers was so important to our success. Even 10 years later, we are constantly growing and changing. If you don't change and adapt, you don't grow. Our team is always finding new ways to make Chaturbate better."
And along the way, Lara has become a voice of empowerment, not only behind-the-scenes but frequently at industry events, where she shares the ups and downs of womanhood, as well as the business realities of succeeding.
"I have found that being a woman in the adult industry has offered me more benefits than obstacles," she said. "It is so powerful to be a woman! I find that one of the biggest obstacles can simply be not understanding your own strength and power as a woman. The adult industry as a whole is more open to a woman being in charge than other industries — the industry has female directors, female brand owners, etc. Being a woman has offered me some amazing opportunities and advantages — being able to connect with broadcasters, gaining their trust and truly understanding their needs."
Thus buoyed by the support of colleagues and the community itself, Lara is keenly inspired by the many ways adult has progressed to be a more inclusive and uplifting industry over the years.
"Since I entered the adult industry, I have seen a huge shift toward inclusivity and acceptance, especially of the trans community," she said. "Not just in adult, but in the mainstream as well. From the change in terms used to describe trans individuals to the massive growth in the trans porn category, I have seen a larger acceptance and inclusivity of the community. Even here at Chaturbate, we are constantly checking to make sure the language we use on our site and in our marketing materials is inclusive and all encompassing.
"Inclusivity has been a part of Chaturbate since the beginning," Lara continued. "When we started the platform 10 years ago, we designed the site so anyone could be on the homepage — gay, straight, women, men, nonbinary, transfeminine or transmasculine. We never select who to promote on the site; our algorithm is just looking for interesting people with no consideration to gender, race or age. We are also actively working to create an environment where everyone feels welcome and safe. Through our artwork, marketing, video material and social media, we want to accurately depict the Chaturbate community and make sure that everyone sees themselves represented."
From advancing the cause of increased representation to forging an immense business, Lara is a tireless advocate and executive. Yet no matter the heights to which she climbs or the increased demands that come with it, she stays grounded with her family, lest she become too consumed by the temptations of a workaholic lifestyle.
"I have learned so many great lessons as a working mom, woman and executive," Lara imparted. "One really important piece of advice for anyone is finding a work/life balance. You must take time for yourself to recoup and relax. Burnout is real, whether you are a broadcaster or work behind the scenes in the adult industry. I find that some of my best ideas come when I'm not at work. It's important to step away so you can come back to work fully-charged and ready to tackle any obstacle.
"As a mom, I have learned the valuable lesson to always lean on your community for support," she concluded. "Both in my personal and professional life, it's my community and team that help me achieve my goals and execute ideas. Don't be ashamed or afraid to ask for help. One key takeaway for any woman is remember being a woman is wonderful. The sooner you understand the power of being a woman, the more powerful you can be."
In college, the woman who would one day become CEO of Segpay was a competitive swimmer. Slicing through the water with an athlete's zeal helped forge her attitude in ways that persist to this day, as she positions her online payment processor brand to be a global force. After all, it was during those aquatic competitions that Cathy Beardsley realized she really enjoyed racing towards the front.
"From then on, I used my determination to stay ahead of the competition as I strived to be on top and out front of everything I put my mind to," she shared. "Swimming created this mindset of 'never fail, never give up.' It also forced me to be very disciplined and somewhat robotic. That training has helped me with methodically growing Segpay to where it is today."
She also attributes her sense of fairness, respect and kindness to her parents providing a good foundation, which is why she has a compassionate and meritocratic approach to managing staff and taking care of clients.
"Leading others requires you to know how to work with others in a way that inspires them to work towards their full potential," Beardsley commented. "As a leader, you need to make decisions with confidence and stand behind the decisions of your teammates. Since the payment industry is exciting, cutting-edge and constantly changing, every day, there are new challenges providing a great learning opportunity. Staying on top of the constantly changing rules and regulations keeps us on our toes."
Navigating such terrain is no small feat, given the complexity of Visa and MasterCard regulations alone, yet the fleet-footed dexterity required to keep pace has allowed Segpay to develop an expertise that keeps clients safe and in compliance.
"Every day is different and unique," Beardsley said. "Fraud is prevalent and we must remain one step ahead developing solutions to mitigate these risks."
Also vital to protecting clients are the multiple banking relationships she has helped establish in the U.S. and Europe, which has led to other banks asking to work with Segpay, eager for their business. Coupled with a commitment to cutting-edge product offerings, Beardsley strives to craft an enticing value proposition for anyone not already on board.
"Innovation is important in business; it's the process of translating an idea or invention into a good or service that creates value a customer will pay for," Beardsley noted. "I came to this industry in 2005 from the telecommunications space. I worked at MCI where our sole mission was to break up the AT&T monopoly on U.S. telecommunications.
"That singular focus led to dramatic breakthroughs in communications," she continued.
"For example, MCI invented e-mail and was a pioneer in internet services. Those innovations led to choices and freedom for users of telecom services. In the payments industry, innovation has led to many enhanced services and choices for consumers."
She then listed a few examples of innovative developments in the payments space, like cross-selling, which entails selling additional products or services to existing customers, exit consoles to keep customers from leaving and customer retention features, to reduce churn in recurring and subscription models, while extending the lifetime value of a customer.
And the source of such innovations, Beardsley notes, often come from close client connections and listening to what customers need, as well as how their services can help them. Still, for all her grit and inventiveness, she believes that remaining on top in the industry requires constant evolution.
"Over the last 15 years, many processing companies have come and gone," she said. "Most were too aggressive in one aspect of their business policy or were not focused on the many regulations of our industry. At times, it was frustrating to see companies succeeding without doing the hard work that we were putting in to meet regulatory guidelines of the card brands and government regulators."
Fortunately for Segpay, they have focused on long-term policies and growth that are less subject to the shifting tides, because they are founded upon bedrock principles and a formidable team.
"Your team makes the company, so it's important to find the best people you can collaborate with," Beardsley said. "I look for people who can work together, contribute and share the same vision, as we continually strive to better the company and industry we work in. We have created a community environment where we can cultivate leadership in a professional and relaxed atmosphere. Regular communication is important, especially sharing proactive and constructive feedback in an ongoing dialogue."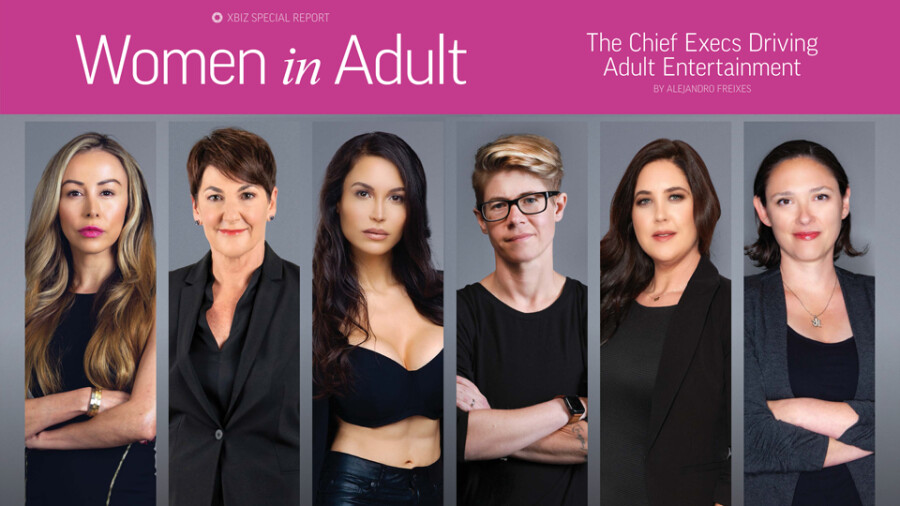 Echoing her C-suite peers in the adult industry, Beardsley believes that being a woman is ultimately an advantage.
"When sitting with acquirers or the card brands, a female brings a different perspective to the adult industry," she said. "I also think it helped take away some of the stigma professionals outside of our industry might have about our vertical. Women typically must balance and manage work and families, causing us to approach our life and our business with the need to be efficient and effective. This need to be efficient forces us to look for unique ways of approaching a new opportunity or tackling a current problem."
Likewise, she finds a workforce comprised of diverse backgrounds instrumental in bringing unique perspectives to the board room, resulting in decisions which are better reasoned and informed.
"Segpay has always had a diverse workplace and we continue to focus on hiring the most qualified individuals for the job," she said. "We have staff in six countries, all with unique cultures and professional personalities."
From moving the needle with tech-savvy innovations to fostering close banking relationships, Beardsley has attained insights into innumerable facets of the industry. Looking back, she had several pearls of wisdom to share.
"Trust yourself," she said. "I have had several people believe that they would be able to move the company at a faster pace, I have had people wonder why I am in this space and I have had people tell me it has taken too long to be successful. Put the negative voices out of your life and focus on doing what you know is right. Treating customers right and setting an example of how business should be run pays off."
Bella French, CEO of indie content-selling platform ManyVids, first came from the mainstream world, where she got her start in the fashion industry. After studying fashion design and marketing, she had invested in opening a retail store filled with her own designs in Montreal, but soon found herself in over $250,000 worth of debt from a flood in her office space. With debt on her shoulders, she was introduced by a friend (now a partner of hers) to adult.
"This key moment in my life opened new doors to a completely different world for me," she shared. "After spending a few years camming, I decided to launch ManyVids Official with the goal of supporting and destigmatizing sex workers."
This journey has led her to experience numerous life-changing moments, filled with challenges and situations that push her to the limits. Nonetheless, she strives to do her best by having an open heart, revisiting her actions and challenging herself to keep a positive attitude and mindset.
"Trying to help grow an industry that the rest of the world is trying to eliminate and feeling the judgment of others towards sex workers (including myself) is no easy job, but is something that has changed my life for the better," French emphasized.
As a CEO who makes hundreds of decisions every week, she carefully gauges how every decision, small or big, can have a large impact over time.
"It's my responsibility to make the right decision and I have learned deeply from the decisions that were wrong," she offered. "Learning from your mistakes is essential to growing and evolving as an entrepreneur. As you can imagine, having that level of responsibility can be quite difficult to handle, and the more your business grows, the more intense it becomes. If you don't have a very powerful vision and strategy in place, you will have a hard time to keep up with the constant pressure."
Her confidence and perseverance in executing business initiatives are driven by three main sources of passion. Firstly, she explained that "connecting on a higher lever with an oppressed group of people has ignited a burning fire within me to help them at all costs," which has in turn helped forge a clear vision and toughen her grit.
Second, she draws inspiration from the team of people "that have decided to join our organization to help change the world," which she finds to be a humbling experience.
And third, she counts herself "extremely lucky to be surrounded with a team of executives that are much more experienced than me," underlining that the consultation she receives from them is truly essential to the company's success.
"If you have these three points aligned, things will fall in place and things will grow on their own," she said. "Trust yourself and always do the right thing."
Of course, figuring out what the right thing to do is itself a great challenge. Because while it may be tempting to be dismissive or pass the blame when faced with harsh criticism, French proactively tackles problems with thick skin and an open mind.
"Learning to step back and observe things for what they are and to take ownership for any wrongdoings has built me into the strong leader I am today," French said.
She also believes that being a leader is about seeing the leadership potential in members of her team, as well as the community itself.
"The only thing I am trying to do is to have sex workers realize that you can achieve anything you set your mind to," French explained. "The MV Team believes in you and will do everything we can to help you achieve your goals and dreams. Because I look back at the woman I was and the challenges I was experiencing when I was a cam performer and I tell myself, 'I am doing this for you, I am coming from the future to help you and the current and future generations of sex workers. Hold on, you will make it, don't give up.'"
And like other chief execs who identify as women, she refuses to be overly defined by restrictive notions of what constitutes personal identity and how that translates to career performance, focusing most on earning her way through merit and tenacity.
"I refuse to ever say that because I am a woman, this and that is happening," she said. "I am not a victim. I am a human doing the work of growing a thought and ideal concept and, more concretely, an organization. Challenges will come and I will face them as they pass. I am capable of taking on the responsibility of being a leader and a CEO. It is not too hard for me because I am a woman. My body and my sexual organs should not be regarded as something negative, as they have no impact on the decisions I make. Being a woman is one of the things I am the proudest of and at the end of the day a female CEO, is a CEO."
In that same vein of inclusivity, French lauds the industry for its progress towards a more welcoming environment for every body type and personal creed, while seeing a long road ahead for true boundary-pushing greatness.
"The industry is on the right track, but the work has just begun," she acknowledged. "At ManyVids, we cultivate a diverse and inclusive workplace through our extensive hiring process. With our MV Stars that join the platform, we support all genders and races — everyone is welcome and encouraged on the platform. ManyVids was created as a judgment-free online ecosystem where all content creators are supported to achieve their goals and pursue their passions."
That spirit of lifting others up and encouraging artistic freedom has certainly propelled ManyVids to be a titan in the clips game, while its offerings have expanded to many other avenues of monetization such as MV Live camming and MV Crush Club premium social media.
Along the way, as she evolved her mindset to keep pace with a fast-moving business, French has gleaned her fair share of wisdom.
"Life is very short, don't waste your time," she imparted. "Get to know yourself and what you are the most passionate about, no matter what that is. Once you find your calling, follow it to the fullest. Create a life of fulfillment, a life you don't need a vacation from, a life filled with love and more. Don't listen to anyone other than you.
"As crazy as it may sound, making that bold decision may lead to resistance from friends and family, because ultimately, some may not want you to achieve what they were not capable of achieving," she continued. "Stay on track with your journey and trust yourself."
A decorated and acclaimed director of countless adult features and scintillating sex scenes, Bree Mills has climbed the ranks of Gamma Entertainment from an early marketing position to become not only its head of production, but also Chief Creative Officer. She even oversaw the radical transformation of the company's entire content distribution model, which consisted of separate brands, paysites and domains, into one Netflix-style destination: AdultTime.com.
Like many of her maneuvers over the years, such as actively including performers, fans and indie producers in the creation of content, she strives to be ahead of the curve. So when the pandemic struck, Adult Time was well-equipped to capitalize on the creator economy, while continuing to release slickly-produced standout titles that often titillate as much as tackle real-life issues.
Reflecting on her origins in the biz, Mills said, "I remember the first time I ever set foot on an adult set, I was incredibly nervous. I had only seen a handful of naked people before in my life and was worried about making the wrong impression or getting in the way. The crew I was meeting were equally nervous about making a good first impression with me, because regardless of my perception of myself, I was still 'corporate.' That day, all of their gear malfunctioned in one form or another, making them even more nervous. But, the episode we shot was really fun."
That was the first time she got to actively participate in helping to bring a story that she wrote to life. Throughout the process, Mills shared that she was as mesmerized by the cinematography as by the directing chops required to work with actors to develop their characters. It reminded her of the joys she used to feel in her days of doing live theater, as she fell in love with the dream of one day making films of her own. From that point on, Mills said she became "hellbent" on learning everything she could to pursue the ideas in her head. Within two years of that first production, she moved to live in L.A. full-time and was well on her way to helping develop the Adult Time platform.
"That day marked the first in a series of profound moments in my professional life," she said. "From seeing the actors I worked with feel so proud and energized by their performances, to winning best film awards for 'Teenage Lesbian,' a story based on my own experiences coming out. In the last few years, as I've scaled back from full-time production to my role as Chief Creative Officer for Adult Time, I've been committed to developing series that offer realistic representations of sexuality, showcasing diverse performer communities and working collaboratively with performers to co-create projects that speak to their values and expression. This work aligns closely with my and Adult Time's vision to 'do porn differently' and for that, I am proud."
Mills then shared, with great fondness, that while her career was skyrocketing, she still found plenty of time to foster a loving family.
"The most profound change in my personal life was meeting my wife Shawna five years ago and building a beautiful family together," Mills said. "We have two daughters and I am blessed to be part of a household of strong women that both support and challenge me."
Anchored in a positive home life, eager to learn and ready to take business to the next level, Mills ascribes much of her ability to executive initiatives to support from a capable team of seasoned pros.
"I am part of a strong management team that oversees Adult Time, including our platform and the various studio brands that feed into it," she explained. "Together, we adhere to a pretty strict vision and work hard to align our content programming and business activities with our goals to exceed customer expectations and make Adult Time an inspiring brand to work with. The role I play within this team is to set the long-term vision for our brand, make sure it's clear and inspiring to all who touch it, and then work closely with our content and marketing leadership to develop projects that represent us. I also still write and direct on the side, with a focus on series and brand development for Gamma as a whole. But, increasingly, I am trying to step back and help empower other creatives like me!"
And like many great leaders, she holds fast to a set of core values, shaped by the lessons gleaned from rising above challenges. Mills also takes care to align herself with trustworthy people who share her same values.
"Hold fast and stay true to yourself no matter how harsh the critics, and recognize that you are always accountable for doing better," she stated. "But rather than just saying it in a tweet, you should focus on legitimate action. Every professional hurdle I have faced has sparked deep introspection on how I and the company I represent can improve. And it certainly has motivated a lot of my plans and focus over the years."
Mills then pointed out that being a woman has actually proven a boon more often than not in her adult career, as she counts herself fortunate for finding support among progressive peers and a culture that championed her, in part, precisely because she is a woman. Still, there were prejudices to overcome.
"I have experienced my fair share of homophobia and negative stereotyping because I am a queer woman," she said, while underscoring, "not as much from within our community, but by porn fans or certain fringe voices who are eager to vilify me personally. A fellow female CEO and industry pioneer, one who I greatly admire, once took me in her arms during a particularly tough moment and said, 'Fuck them! The higher you climb when you are a woman, the more the good old boys are going to try and take you down!' I never forgot that."
All in all, the industry has progressed in ways that are more inclusive and diverse, she noted, amidst a rise in company accountability, increased visibility surrounding the importance of consent and more active courting of varied performer communities. She finds this to be true not just in niche products, but in mainstream brands as well.
"I look forward to the day where the homophobic and transphobic rhetoric in our industry is whittled down to an embarrassing nub and where performers and studios can more actively collaborate together on projects they both benefit from and can feel proud about," Mills expressed. "Through the role I can play with Adult Time, I intend to continue to lean on refining our production standards and being welcoming to all sexual orientations and gender identities on our platform."
Summing up her philosophy, Mills concluded, "Don't lose sight of what's really important in life: cultivating positive relationships, bringing kindness and positivity to the people you work with, and spending more time off social media!"
New Media Group (NMG) Management co-founder Megan Stokes has carved out a very particular niche in adult, building a consulting business that provides clients with a suite of business development and brand expansion services spanning DVD, broadcast, foreign licensing, mobile, web, VOD and more.
Her switchblade, jack-of-all-trades and master-of-many expertise stems from working not only in the affiliate space and having several top paysite players as real-life friends, but also from years spent at Reality Kings, where she and her future business partner oversaw biz dev for ancillary revenue streams, spearheading licensing deals and the launch of RKTV on DIRECTV and DISH Network.
With a growing reputation for being a top deal-maker and content distribution guru, Stokes was hit up by Porn Pros to help them maximize revenue. As NMG Management came to be, their client roster grew rapidly, leading her to work with brands that include Paper Street, SexArt, Bang! and more. If branding is the name of the game, it is a game she knows very well.
But the first, and perhaps most valuable lesson Stokes learned, long before conquering the adult industry, came from a conversation she had as a child with her mother.
"Interestingly enough, I can look back at one specific instance when I was about five years old that I think has honestly shaped everything about who I am," Stokes stated. "One day, after school, I cornered my mom and asked her a bunch of existential questions about her beliefs. I wanted her to give me her answer, just so I had an answer. Instead of sharing her beliefs with me, she proceeded to tell me it was up to me to figure out my own belief structures. The reason this was so profound for me, is because at a very early age, she let me know my opinion and thoughts actually mattered.
"She empowered me to do research and dig into things to find my truths," Stokes continued. "Well, I took that concept very seriously and have proceeded to treat literally almost everything in my life, from business decisions to parenting and figuring out what to order on Amazon, as if I was about to turn in a 400-page thesis. I am a firm believer in making sure I source quality data to make educated decisions, and from there, I go with my gut instinct. It has served me well!"
She also attributes her perfectionism and work ethic to her father, who was not only resourceful, but also a bit of a workaholic. He also taught her to take nothing for granted in life, especially time itself.
"My dad would always talk about all the plans he had to accomplish his dreams when he retired," she said. "Unfortunately, my father passed away from ALS and did not get to accomplish any of those hopes and dreams. It happened at a time I had for sure reached a workaholic level myself. It has shaped my approach now."
While she is still a tireless worker, Stokes now refuses to work on the weekends and makes sure she is there to conduct her kids' "elaborate bedtime routines" every night.
"I stopped putting things off 'just until I get through this next project,'" she said. "Because the truth is, there is always a next big project, my to-do list only gets longer and I don't want to look back and wonder where the 'actual living' part of my life went. The combination of these things has given me some semblance of balance … kind of."
Stokes also strives to work smarter, not just harder. That is where research plays an instrumental role in streamlining her approach, as she pays close attention to the latest and greatest trends. She also constantly asks herself where she envisions NMG in five years, makes backup plans for her backup plans and pivots quickly based on what her clients' needs are. None of this, of course, would be possible to mastermind without a stellar talent pool at the office.
"We've put together a team that has a variety of strengths that enable us to do all that — we all work together really well so that we can execute all of our ideas," she said. "With every project we do, we ask the team to think, 'How can we scale this up or down?' so we're tackling the problems before they become issues. But my 'secret weapon' is that I have unwavering confidence that I will always figure it out. I always do. Whatever the 'it' is, whatever comes my way … I know I will adapt and I know I will grow stronger from it."
And has being a woman caused any roadblocks in her pursuit of success?
"Shockingly, I don't think it has," Stokes relayed. "I think I have been fortunate enough to have attracted and managed to maintain solid relationships with the types of people for whom my gender never played a part in how they saw me. I think I expected it to be an obstacle and was so determined for it not to be, that I somehow managed to make that happen out of sheer perseverance."
However, Stokes has definitely observed a greater quantity of women leading brands in adult today, recalling that back when she attended her very first trade show, she scarcely counted more than three or so women in an executive position (Shirley Lara was one of the few she noted then).
"That has drastically changed in the last five years and I am so happy and excited it has," she celebrated. "There are a lot more women-led companies today, with women having more control of the way their products or brands are represented; it really has changed the way we all look at things. I honestly believe the ripple effect of more women in the business has helped create more opportunities for the industry as a whole, not just as far as more female consumers and content creators, but in the way the industry is viewed by outsiders. It helps to normalize sexuality, it helps balance the way sex is portrayed on camera and … well … too much to list! It's a win for everyone."
She has also played her own part in helping the industry attain greater diversity, by freely offering counsel to anyone asking for advice, as well as assisting them in making the right connections. In addition to facilitating networking opportunities, Stokes points out the common pitfalls to avoid in adult, while lending a kind ear, especially to women.
"I obviously get even more excited to do this with women," she shared. "I want as many women in our industry as we can get. We know that things tend to change slowly in our world, in how content is marketed and in who has the decision-making power, but I'm hopeful that we can continue to make changes that give not just our companies a good name, but the industry as a whole one."
When Kink.com CEO Alison Boden started out in adult at age 20, she imagined herself fighting for body-safe sex toys and workers' rights on porn sets. "Almost immediately (and predictably), I had to accept the reality that the vast majority of decision-makers did not see toxic dildos and on-set horror stories as a problem," she noted. "I still loved the industry and what I thought it could eventually be, so I focused on earning a paycheck and trying to push for positive changes where I could."
So she created a company that sold sex toys at home parties, as well as online, hoping to build up a feminist, sex-positive store akin to Good Vibrations in her hometown. Since she and her business partner were new to retailing, they ordered their initial inventory based on "what looked cool in the catalog, including 'jelly' dildos that looked pretty and came in lovely translucent colors." But when she opened the package, they were covered in an oily and malodorous substance that was visibly leeching out of the material.
"I didn't know what would happen to a person if they put that inside of themselves, but I certainly wasn't willing to sell them to my customers to find out," she explained.
About a year later, Boden was hired to manage the "novelties" department of an adult ecommerce site, where she was disappointed to discover that they were selling those very same colorful jelly-like products she herself had refused to offer customers.
"I naively thought that explaining to my manager that they were gross/dangerous would mean that I could replace them with safer (albeit more expensive) alternatives," she remembered. "I was mistaken. The fact that people bought them, lots of them, was more important than the fact that they were likely to disappoint people at best and hurt them at worst.
"Selling dangerous products represents an unacceptable risk to me and one that I refuse to take now that I make the rules," Boden continued. "As does expecting people to put themselves at risk for a paycheck, whether it's in an office or on a porn set. As far as I know, we only get one body and one life. Working while sick, burned out or in unsafe conditions does not produce happy employees, good scenes, or loyal customers."
This commitment to ethical business practices led her to Kink, because they had a reputation for treating performers well and she wanted to work for a company that had a mission in line with her own.
"It's a genuinely exceptional company that has acted as a role model and held itself to higher standards than almost any other in the industry," she emphasized. "But it's not enough just to do the right thing. Sadly, many of the issues that existed almost two decades ago are still with our industry today. The difference is, I have more influence and authority as the CEO of Kink.com than I did as a novelty buyer or a software engineer. The role comes with a personal obligation to positively impact and protect the adult industry. "
She expressed gratitude to Kink for investing in her, ever since she was hired as their new email marketing manager 10 years ago, before she rose to become its CEO. Now, she has redoubled her commitment to enacting policies that are in line with her values.
"I'm still surprised at times to find myself in this role," she confessed. "From what I've seen, my values as a leader are very different from the average chief executive. I come at the job from the perspective of a person who has worked here; I don't have (or want) an MBA, and I measure myself against my own values, not what's good enough for other people. It's important to say at the outset that I've fallen short of these values many times. And I will fall short of them again. But every day is an opportunity to be better and these values are what guide me toward that aim.
"As a CEO, I see that the company performs well when employees are treated with respect and kindness," she continued. "I endeavor to do that every day. I also endeavor to not take unnecessary risks with people's bodies or lives, be as transparent as possible and leave things better than I found them. Kink is a business, not a non-profit organization. But actively working to make the industry as a whole safer improves it for everyone, including us."
Part of her motivation for creating a vibrant work culture that rewards ethical behavior, fosters kindness and cultivates respect, stems from the fact Boden has worked for companies where such values were decidedly not the norm. At one particular place, she and her colleagues lived in fear of losing their jobs when employees were being terminated left and right for no apparent reason.
"I wasn't allowed to see the sales numbers for my own department, even though I was expected to grow them and held accountable if they fell," she recalled. "There is nothing more frustrating than not knowing what's going on at your workplace or why certain decisions were made, especially when they directly impact you. Not being kept in the loop leads many of us to assume that things are being purposely hidden. And why would someone hide something unless it's nefarious?"
In her experience, learning the reasoning behind decisions usually casts them in an entirely new "and often innocuous" light, with the exception of sensitive HR-related matters. As such, she believes strongly in transparency, because the more that employees are kept in the loop about a company's direction and well-being, the more they can work towards helping it fulfill its mission.
"Trust requires transparency," she noted. "Lack of trust leads to fear. Fearful, uninformed people don't do great work."
As for those managerial traits she avoids in herself and those she hires, Boden steers clear of power-tripping authoritarian types, as well as those who believe workers are inherently lazy or dishonest. Because while there are employees who fit that mold, she thinks most people genuinely want to do a good job.
"The thing is, being treated as untrustworthy or disposable doesn't inspire us to do our best work," she said. "People will tolerate being miserable and feeling financially insecure only as long as they have to."
Boden then reflected on how being a woman impacted her career, concluding that knowing the answers to that question is actually difficult given the invisible ways discrimination can manifest unbeknownst to the person being discriminated against.
"That's kind of the thing about being a woman," she shared. "Unless the sexism is blatant, you can only guess at how it's affected your career. When I was a software engineer, I remember hearing horror stories from other women in the field about the kind of sexism they had to put up with on a daily basis at mainstream tech companies. I think in certain ways, being a woman in this industry is probably better than most. Maybe the fact that sex is the subject matter creates an opportunity to define boundaries that doesn't exist in other jobs."
To that end, Boden makes sure to cultivate an environment of inclusivity for her staff, as well as the greater community, because she has always lamented gatekeepers and "cool kids' clubs," given their impact on newcomers who must then overcome well-entrenched barriers to entry.
"Being an inexperienced newcomer is really intimidating, whether you're learning to surf, playing a video game with randoms online, applying for a new job or getting involved in BDSM for the first time," she noted. "Whether that community gets the benefit of your involvement is entirely dependent on whether you feel welcomed and supported in the space. I think that anxiety and insecurity, the kind that comes with feeling like you aren't welcome and don't belong, is relatable for people of any race, gender identity, sexual orientation, age, educational attainment, and so on. Folks in marginalized groups, even more so.
"When people act like 'cool kids,' aka gatekeep spaces they regard as theirs to exclude folks who aren't like them, they're not just being discriminatory assholes," she emphasized. "They're keeping awesome people from making positive contributions to the communities, cultures and companies that they claim to care about. It's not just wrong, it's also quite stupid."
Boden also pointed out that it's not enough to be passively open and accepting. She believes that responsible leaders must go out of their way to find and welcome a diverse array of people into the fold.
"We have to invest in them and give them opportunities and support to realize their potential, even when, like me, they're not guaranteed to succeed," she said. "We're starting to have conversations as an industry about consent and race that have been a long time coming. At Kink, we've sponsored events like 'Flip the Script,' to foster those conversations. As an employer, we actively recruit diverse candidates. Since I took over as CEO in 2018, 40% of the employees we've hired have been people of color."
Then, when asked to reflect on the hard-won wisdom she has gleaned throughout the years, Boden was humble as ever in response.
"As a 37-year-old, I don't feel entirely qualified to impart wisdom of any kind, but the principles that have worked well for me are to admit that you make mistakes and apologize when they inevitably happen, be honest when you don't know something and have something in your life other than work."