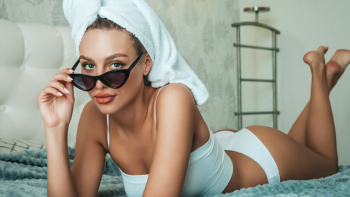 Being a content creator can be lucrative and a fun way to get creative, but are you making the most of your time and content? Do you find yourself thinking, "I have to shoot more content already?!" Are you like me, wanting to have a work/life balance, but somehow work is always tipping the scales away from life? (Please say it's not just me!) Well, one of the key components of being a standout content creator is consistency, with wall posts, new PPVs, social media updates and a regular refresh of content. That can quickly become overwhelming for someone who just wanted to make some clips for extra cash, but I'm here to tell you, it doesn't have to be this much work. You can, indeed, have a life and shoot enough to keep your fans buried in endless new content as you're sipping pina coladas in the sun on your unplugged vacation.
It starts with being very organized. You need to Marie Kondo your shoots — it has to bring you joy. The best way to accomplish this is to make a list. A shoot list is going to be your best friend. If the idea of making a list stresses you out (What's the right layout? How many items do I need on it? Etc.) let me introduce you to the joy of Etsy and Amazon: I get so many notebooks and templates that I'm concerned it may be a problem, but you can find any kind of format that fits your style. Just make sure it's presented in a way that you will continue to use.
No one wants to rush to shoot new content every week, but if you plan correctly and break it down ahead of time, you will put yourself into a position to protect your greatest asset: yourself!
Preplanning everything you want to shoot — which outfits, themes and type of content — will help save you time and better plan your days. Start by setting some time aside to consider what you're going to shoot and plan the day in blocks of time/various settings. Let's break it down together. We're going to schedule just three days for shooting.
Start by choosing a day to shoot and four outfits/ideas to shoot. Shoot a solo in Outfit 1 and then shoot a JOI in the same outfit from a POV position. Take five to 10 matching photos per outfit. Just change your outfit, the location in your home or get creative with angles — i.e., use a phone stand/tripod to shoot from a little bit of a distance. Repeat for outfits/ideas two through four. It is good to try to have multiple niches in the scenes (i.e. do a solo dressed as a "stepsister/schoolgirl" in glasses or knee highs, then shoot a JOI from the POV angle as well and play up the roleplay in the dialogue. In one day, you now have eight scenes: four solos and four matching JOI, plus photo sets.
---
HERE'S WHAT A SAMPLE SHOOT DAY LOOKS LIKE:
Getting in the shower – solo and selfies
Sexy fun video of you doing your hair and makeup, prepping for your day
Outfit 1 – themed solo plus 5-10 selfies
Outfit 1 with hair change – foot fetish video or a striptease getting out of Outfit 1
Outfit 2 – Toy solo plus 5-10 selfies
Outfit 2 – BJ with toy video
If you're feeling up to it, a clip to sell during sexting
Next, pick another day and shoot two (or more) clips that are either longer, fetish-themed or have a more elaborate production value, with 15-25 matching photos.
Before each solo shoot, remember to get some sexy/non-nude content as well: clips of you dancing, doing yoga or cartwheels, a magic trick or talking about something you love, or even just scanning your body up and down and recording some audio descriptions. These are going to give you plenty of promo and marketing materials that can be used for the premium solos you film on this day.
Finally, pick one more day to do your made-for-sexting photos and video sets. Shoot at least two, more if you're able to, since you can never have enough sexting sets. (These are best used for those flirt-y convos with fans that get them all hot and bothered and ready to buy a photo or video right there and then!) Plan to do one during the day and one at night, and if you have time we suggest you record some audio notes that can be used along with them.
---
Following this schedule each month, you'd spend three days creating content that should total around 10 scenes, two+ sexting sets, two promo videos, plus tons of other material that can be used as updates and marketing materials. Of course, not all of this will be used in one month. The extra content created allows you to start building yourself a buffer because, let's face it, life happens! You can get sick, you lose track of time while rewatching Bridgerton for the third time or you just need a break.
Your goal should always be to use your time wisely. No one wants to rush to shoot new content every week, but if you plan correctly and break it down ahead of time, you will put yourself into a position to protect your greatest asset: yourself! If you don't take care of yourself, you're going to be rushing to create content and that stress can take the joy from your creativity and lead to burnout. We want to help you avoid that, so I hope that you'll take this advice into consideration. And when you start to build that stockpile and plan a vacation, please send me a postcard!
Megan is a co-founder of NMG Management. A veteran of the adult industry, she has proven to be an endless well of knowledge and is a collector of data that she gladly shares with those who seek her help.