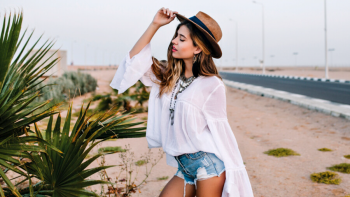 One of the underrated components of being a content creator is finding ways to use all of your content creatively. From meticulously planned content shoots to more candid fare like a selfie snapped while walking your dog, there's always a way to make some extra money.
Taking a look at a creator's social media presence can give you a clear sense of their personality shining through various posts that can run the gamut from beloved pets to a delicious meal they made themselves or a swan dive into the ocean from a mega yacht. Each post tells you who they are, and you can anticipate what kind of content you're going to get by following them. How can knowing this help you, an adult content creator? Well, those photos from everyday life that are just sitting on your camera roll are opportunities that can be used to help promote a sale, boost fan interaction, make a fresh wall post or create a teaser set.
SELFIES ARE A CREATOR'S BEST FRIEND
It's no secret that a good selfie commands attention, and it's hard not to take one when you know you look amazing pre-shoot. So give in to that urge and take a few selfies with various looks, like a silly face, a sultry stare, a flirty smile, a dramatic gaze into the distance or a sexy biting-your-lip shot. Each pose offers a new "personality" post for your wall, a welcome message for a new subscriber or an icebreaker photo for your next monetized sexting session. Selfies are an easy way to keep your walls active and at the top of your subscribers' feeds, and require little work on your behalf.
PROFITABLE PEDICURES AND FOOT PLAY
Did you treat yourself to a fresh pedicure? Or could you use a touch-up and can't decide on a color? I bet you have some fans who would appreciate a chance to see how adorable your toes look! Close-up photos of your feet in various poses can easily be used to get some fan interaction. Try posting a photo of "nude" toes and ask, "What color should I paint my toenails?" Then curl your toes and use that to tease, "What do you think could make my toes curl like this?" Foot appreciation is always popular and there is no reason you shouldn't be taking part in the movement too. If you're into foot play yourself, you could mock a foot job using various objects and now you'll have a new teaser or GIF to catch the eye and get heart rates going.
WORKING UP A SEXY SWEAT
What about those of us who enjoy a good workout? Be sure to post that sweaty selfie, since everyone knows if you don't document it, a workout doesn't really count! Go on and take pictures of yourself mid-stretch and mid-lift (taking care not to strain or hurt yourself getting in a twist for the shot; use a tripod or timer). Or show off your new workout pants with a zoomed-in, over-the-shoulder butt selfie, because now is the time to get those appreciation comments going. For those of us who're a little more gifted up top, a short video clip or GIF of you doing jumping jacks could be used to grab some attention while subscribers are mid-scroll. Use it to invite your fans to join you in your DMs for some post-workout sexting.
CANDID CHEMISTRY WITH SCENE PARTNERS
Are you playing around with your scene partner before shooting, maybe spanking each other a little or sharing some sweet snacks? Take some mini videos for a BTS teaser, snap a photo of their hand print on your ass before it fades away or try to toss candy into each other's mouths. Always look for opportunities to give your fans a chance to see that personality and chemistry with your scene partner shine, especially in ways you can easily turn into tease posts to build up to the release of your scene.
SHARING FAVORITE MEMES AND HOBBIES
If you're like me, your camera roll has plenty of memes you've enjoyed and shared with your friends, inspirational photos of exotic locales you want to visit some day or a few random plants you saw on a hike. Throw them up on your wall and show your fans that you're just like them. Let them know you appreciate a good Star Wars "For the Better, Right?" meme as much as the next person! You could even make your own with sites like memegenerator. net and show off your silly creative side, or just post an emoji and let the algorithm do its thing. It's all about making the content you already have at your fingertips work for you. Megan Stokes is a co-founder of NMG Management, the premier content distribution and management firm. A veteran of the adult industry, she has proven to be an endless well of knowledge and is a collector of data that she gladly shares with those who seek her help.
VANILLA REALITY CAN BE VERY ATTRACTIVE
Customers like to know that you're a person too, and having a profile with content that mixes your vanilla posts with the sexier ones is a great way of showing that you're more than just sex appeal. It makes you seem approachable and encourages your fans to interact with you as more than just a performer and as a full-fledged human. The long-term gain of doing so is fan retention; they will appreciate you being your "real" self with them and it will give them a way to open up a conversation with you that feels less pressured. This also gives them an opportunity to feel closer to you, to know you're not just a bot trying to get their money and that you're a creative person who would like to be appreciated (and paid) for your art.
Megan Stokes is a co-founder of NMG Management, the premier content distribution and management firm. A veteran of the adult industry, she has proven to be an endless well of knowledge and is a collector of data that she gladly shares with those who seek her help.